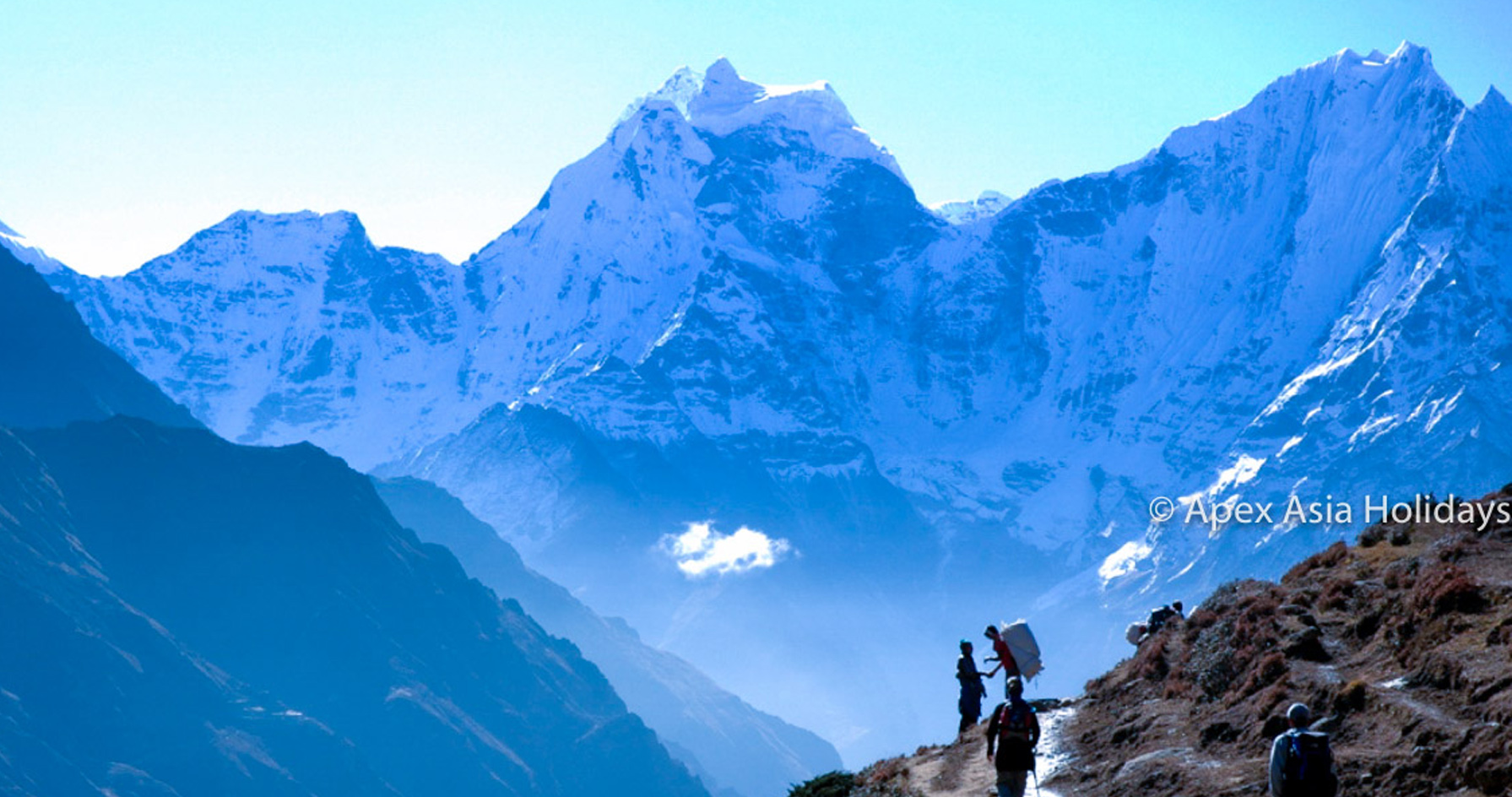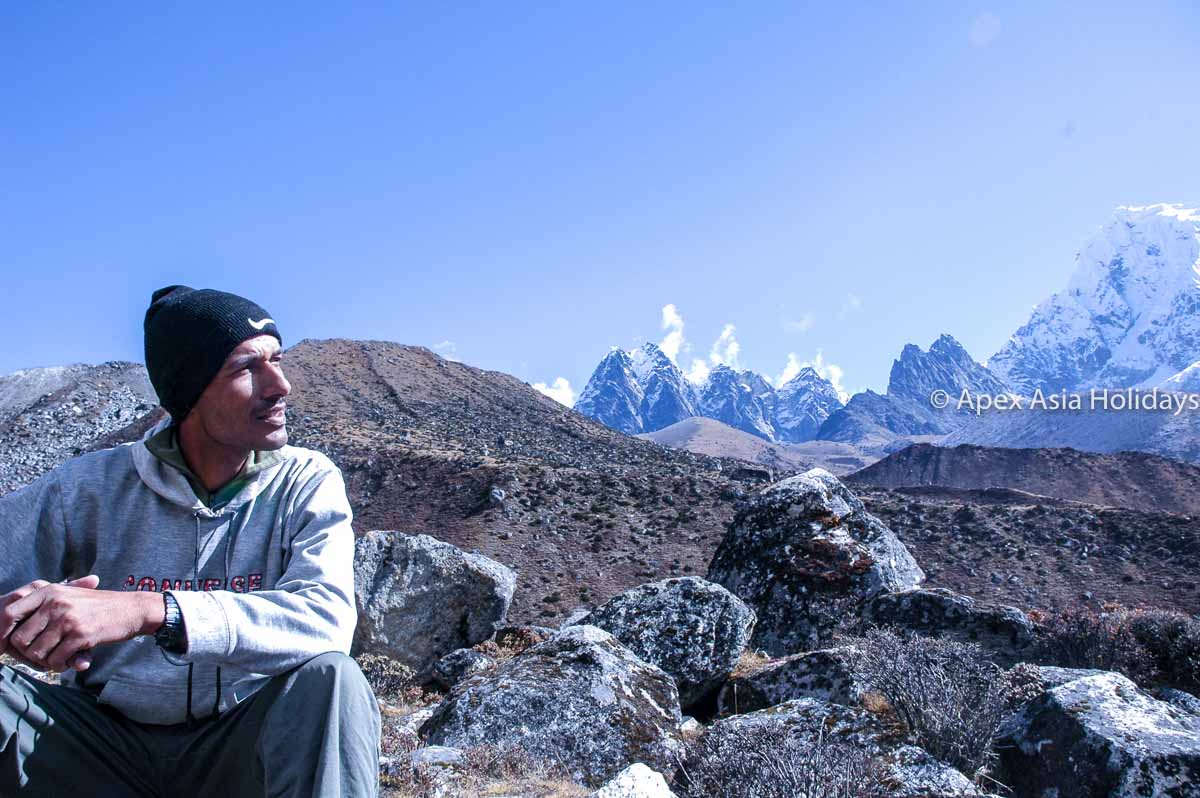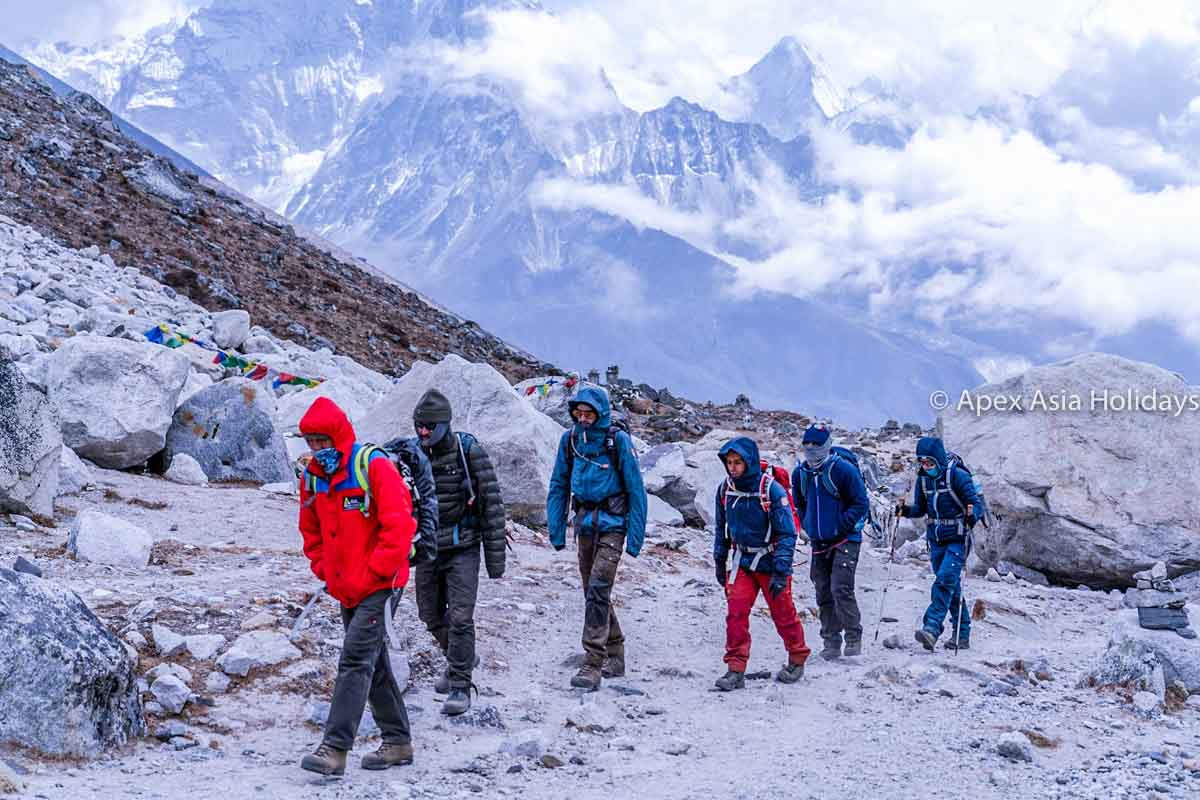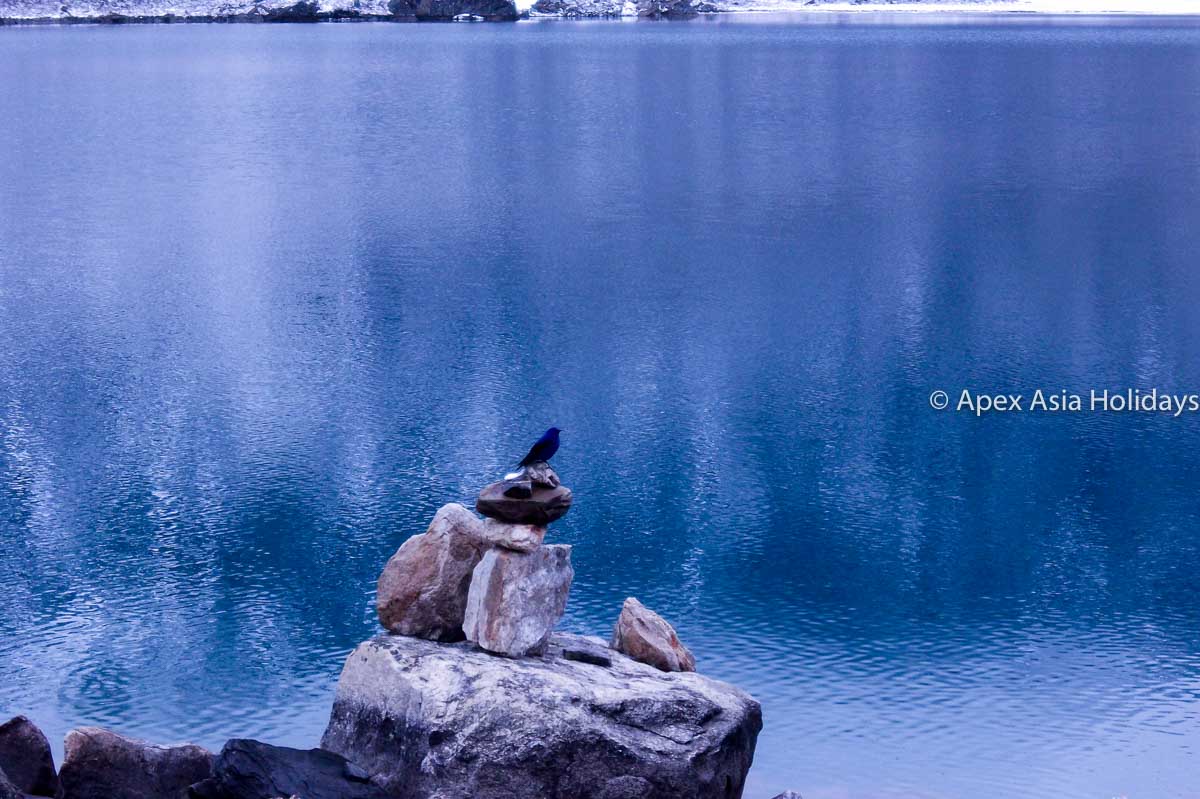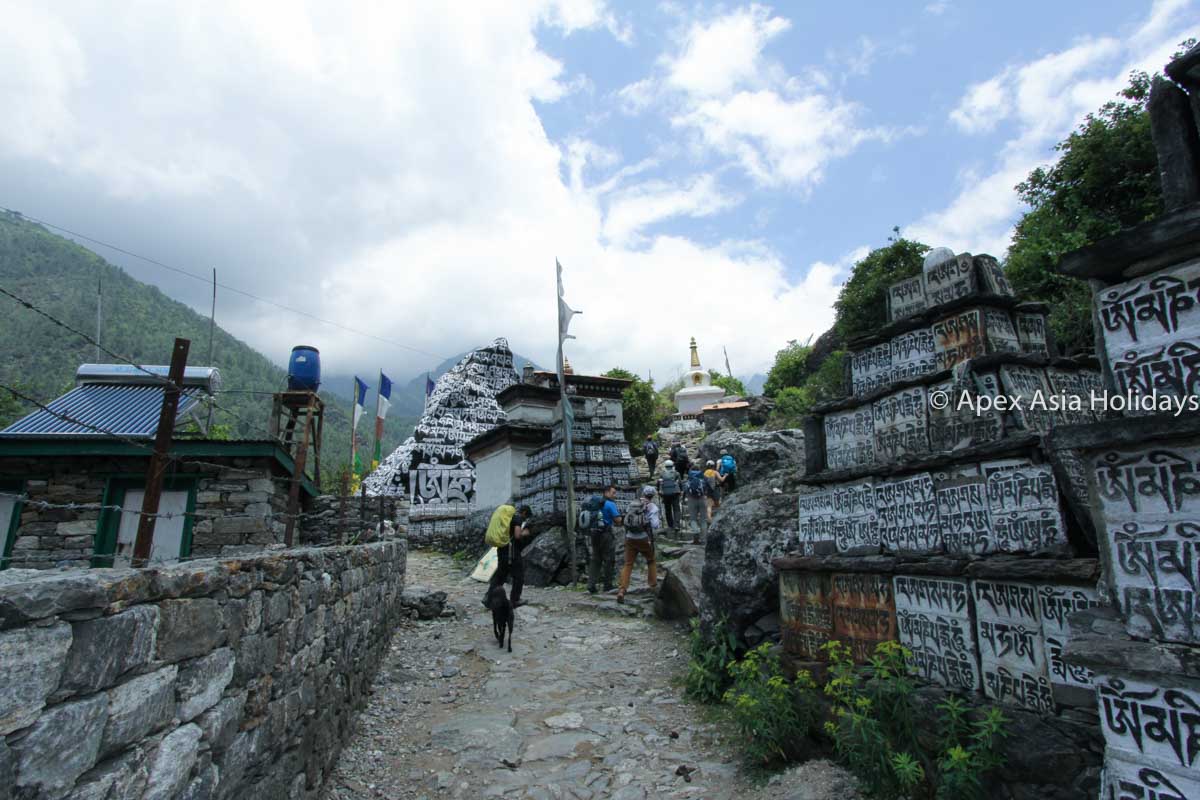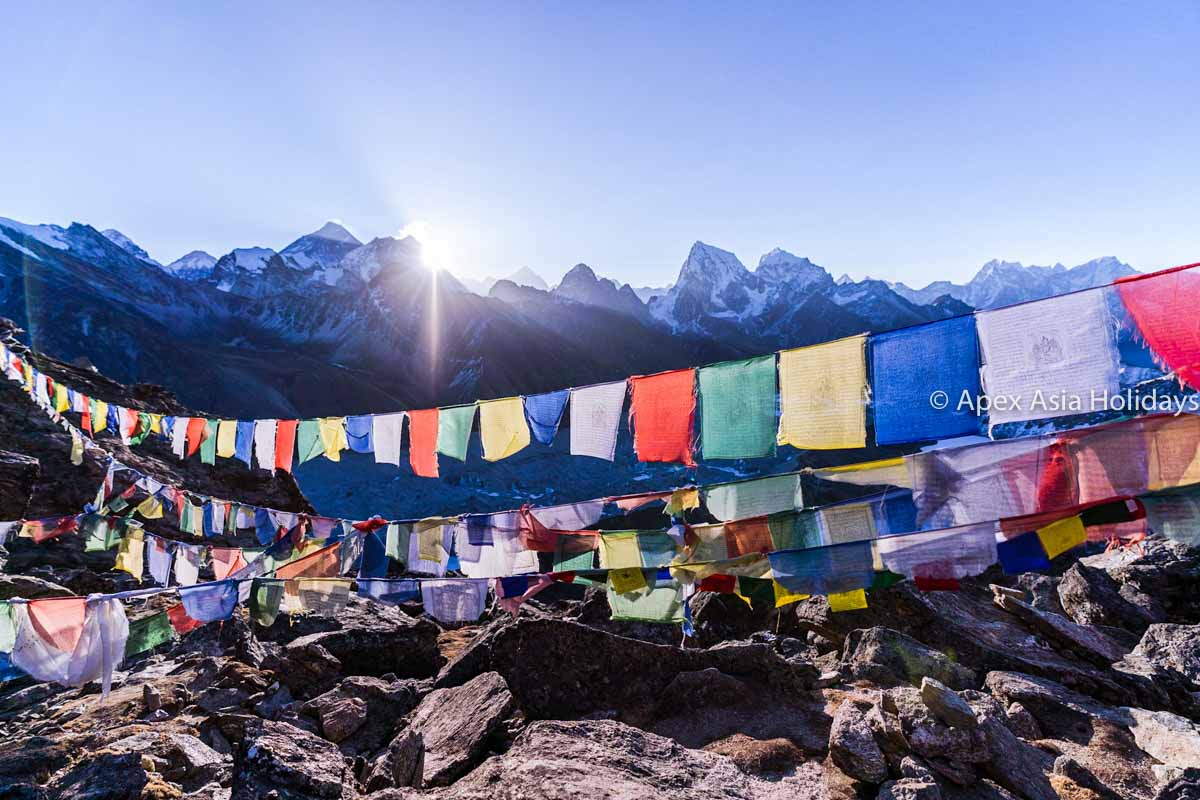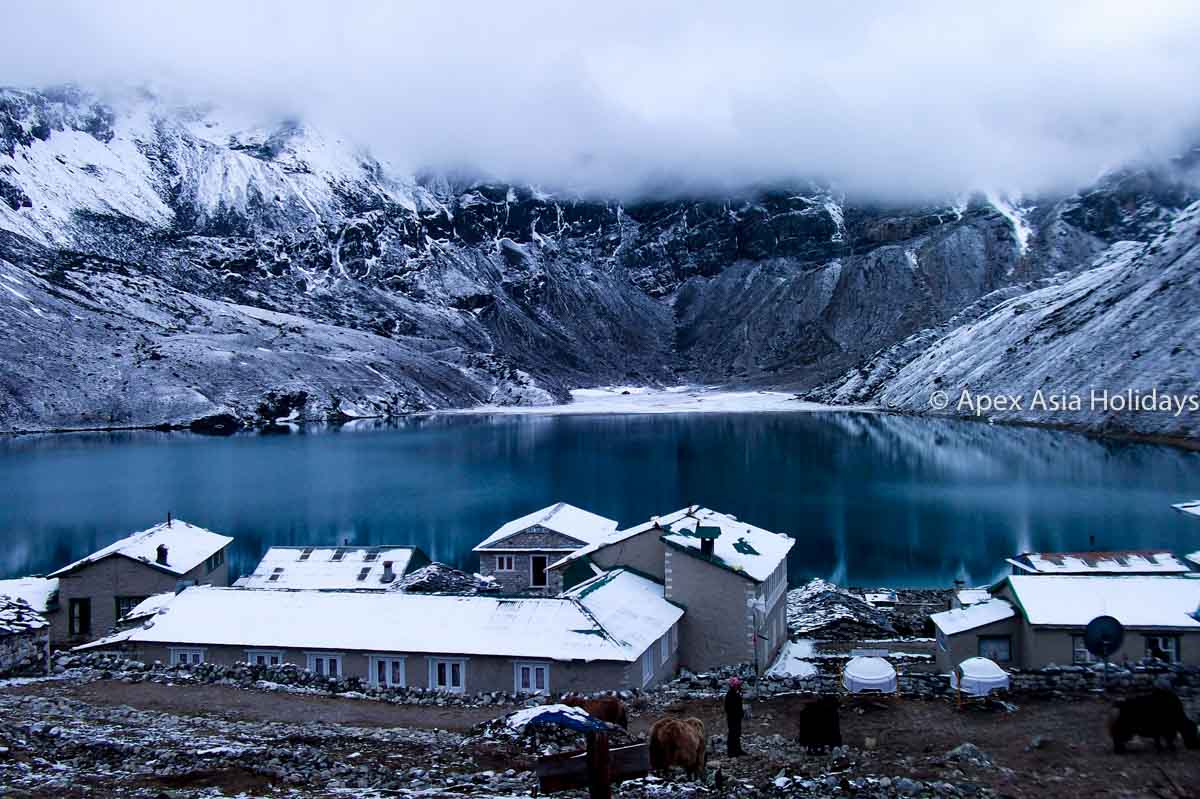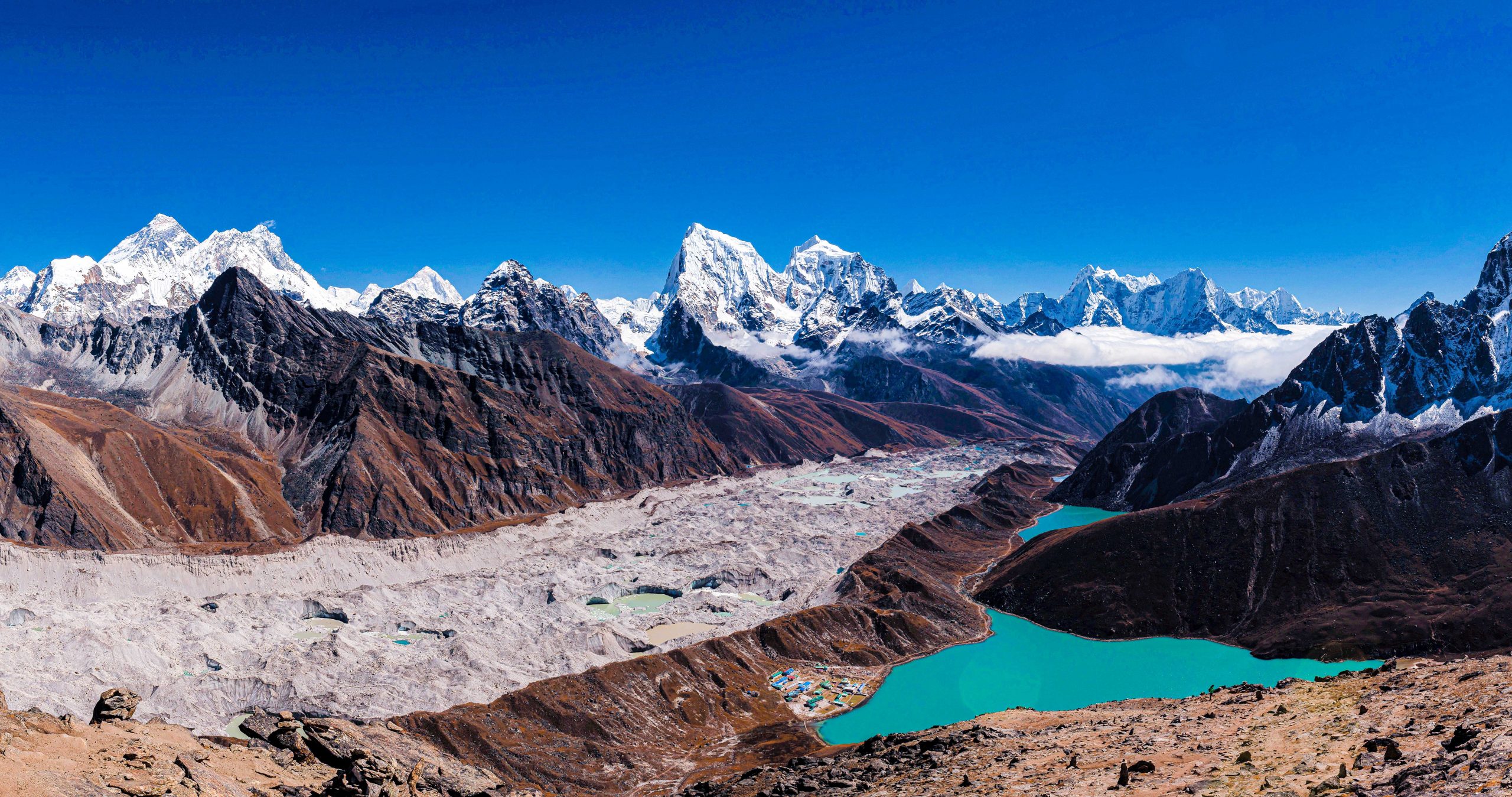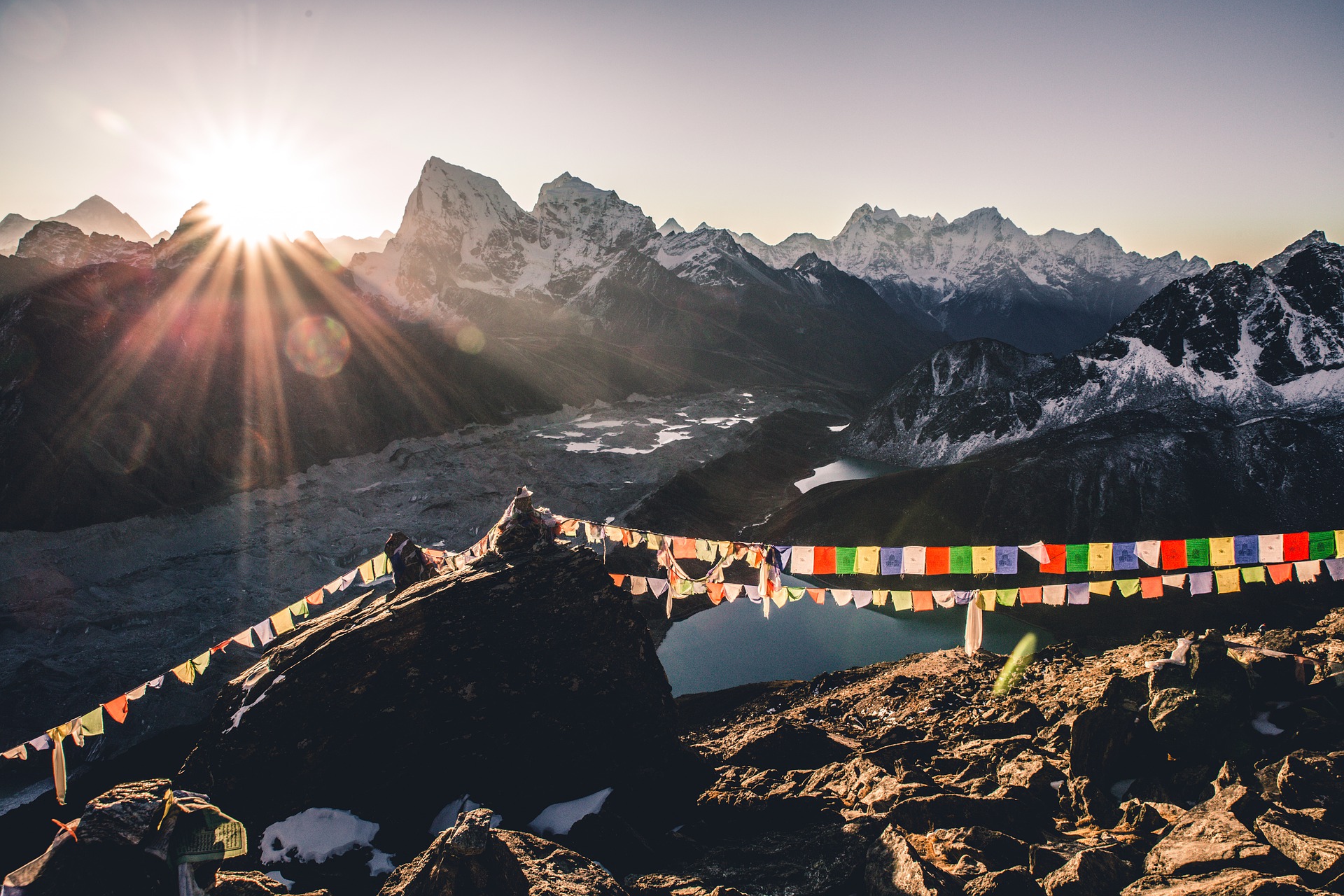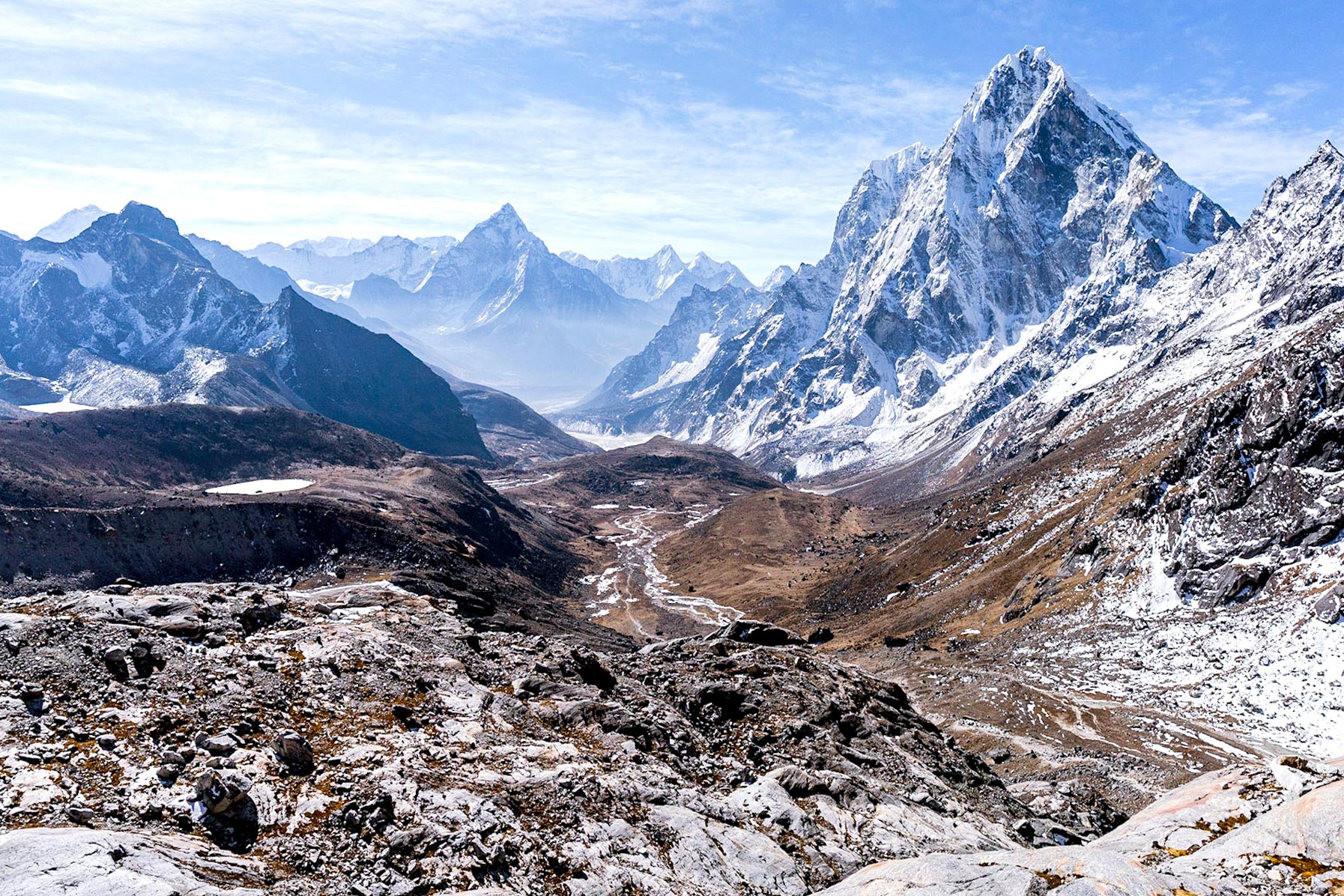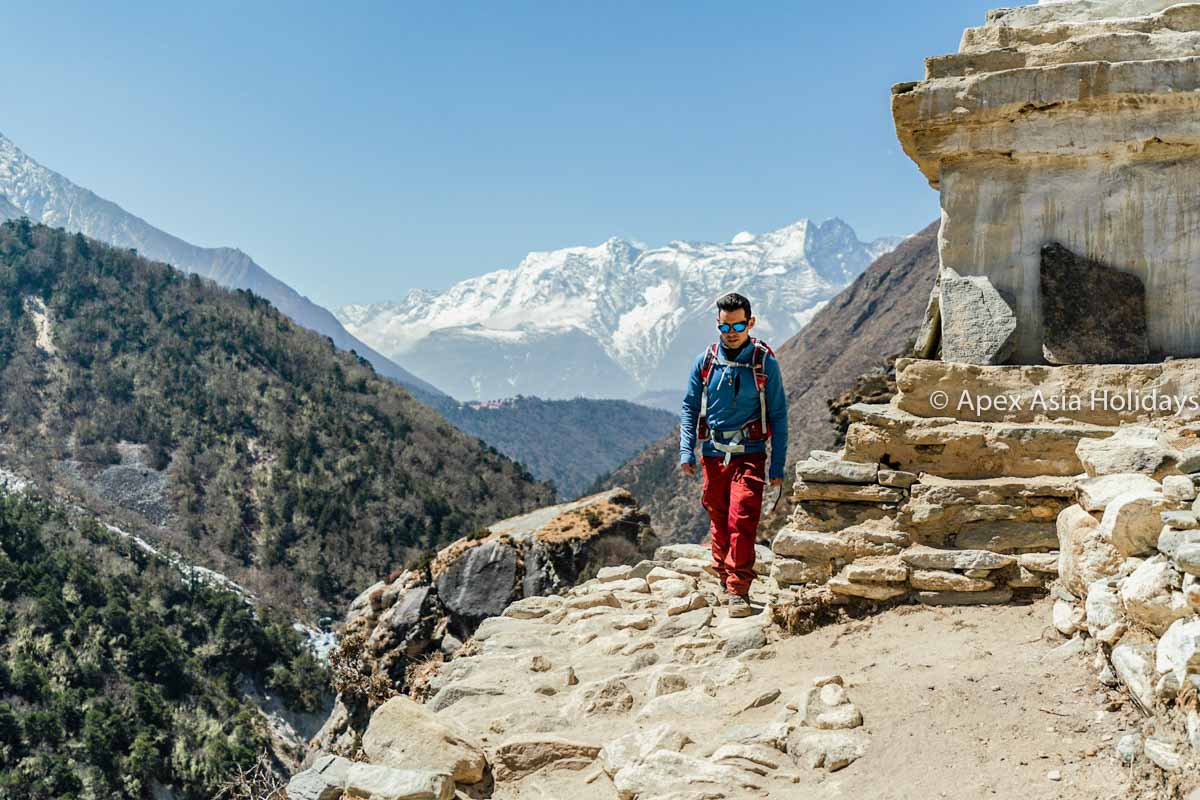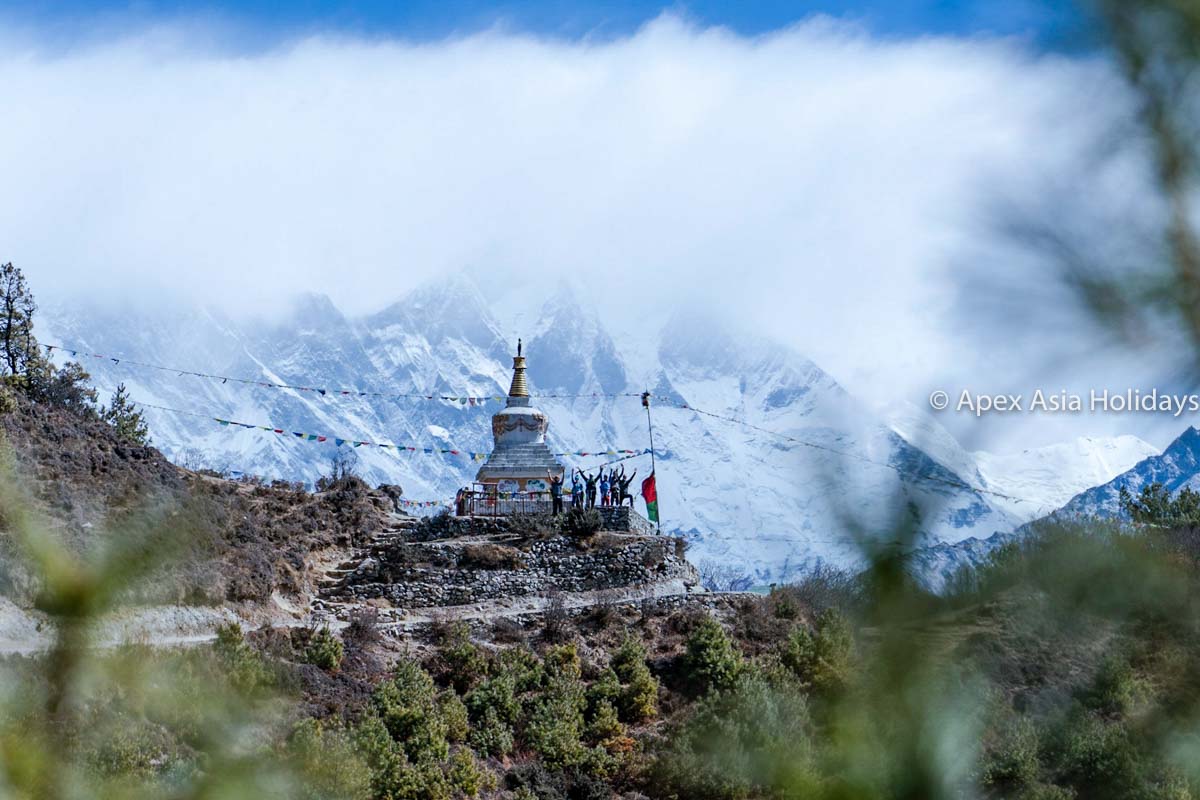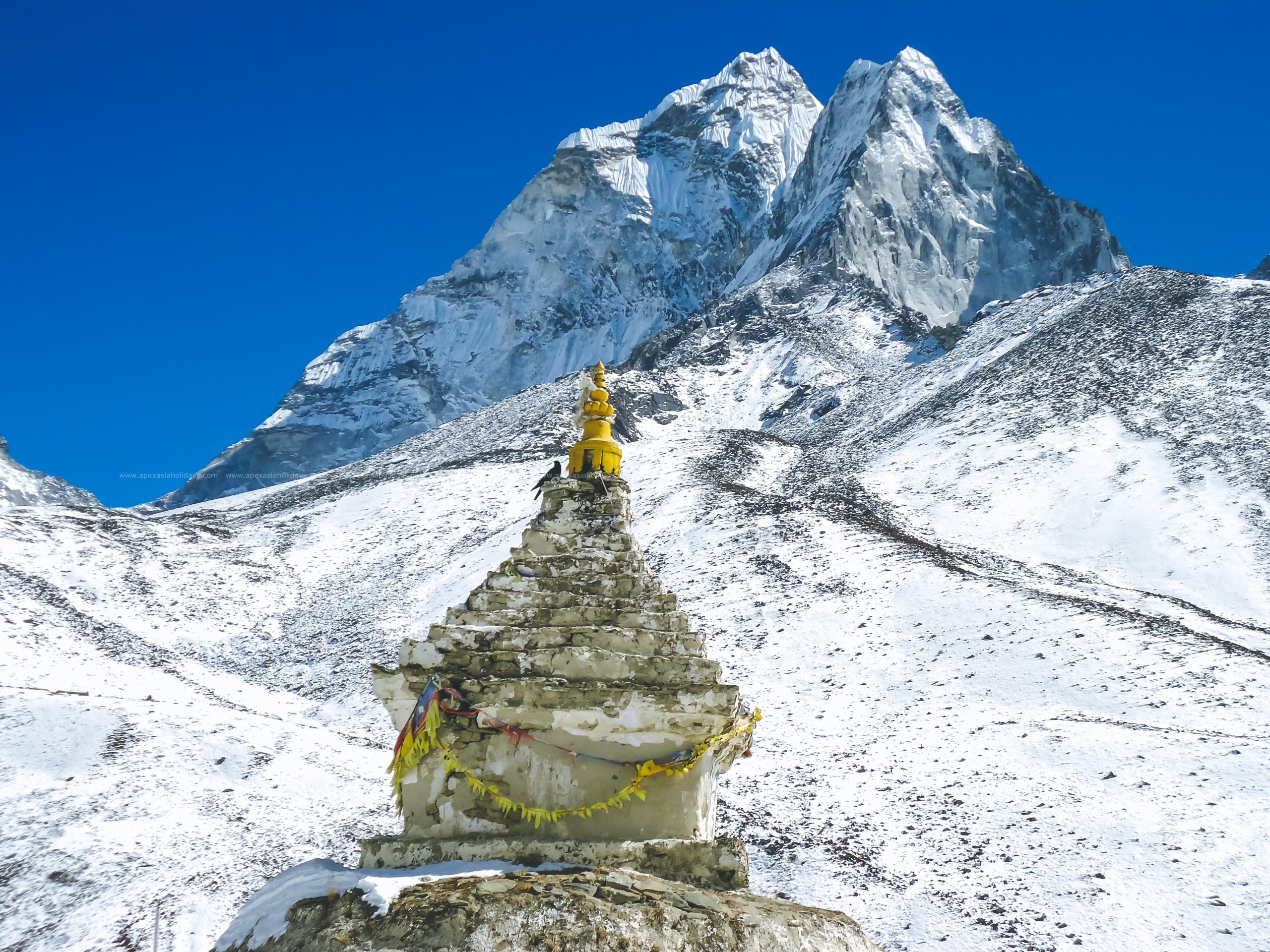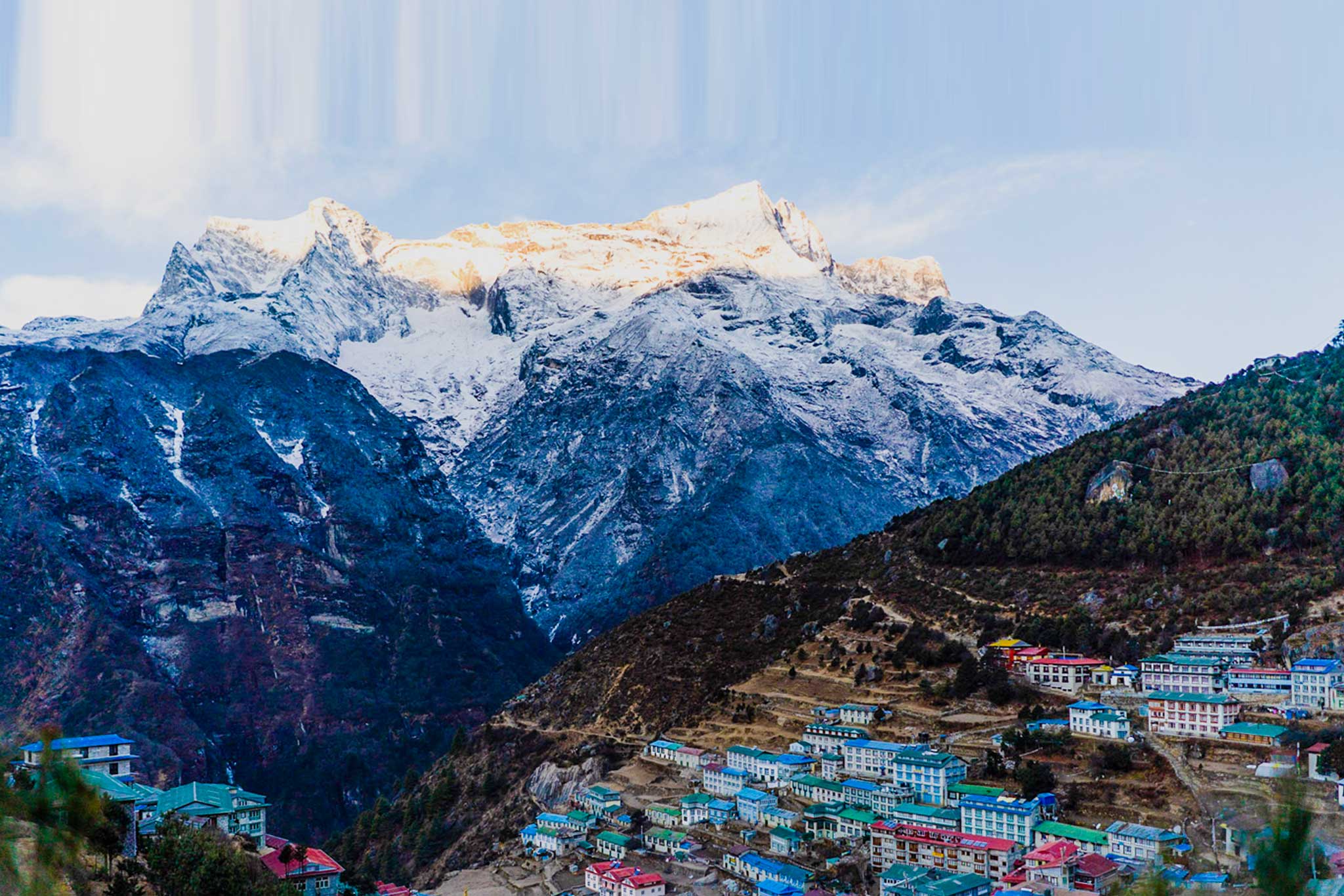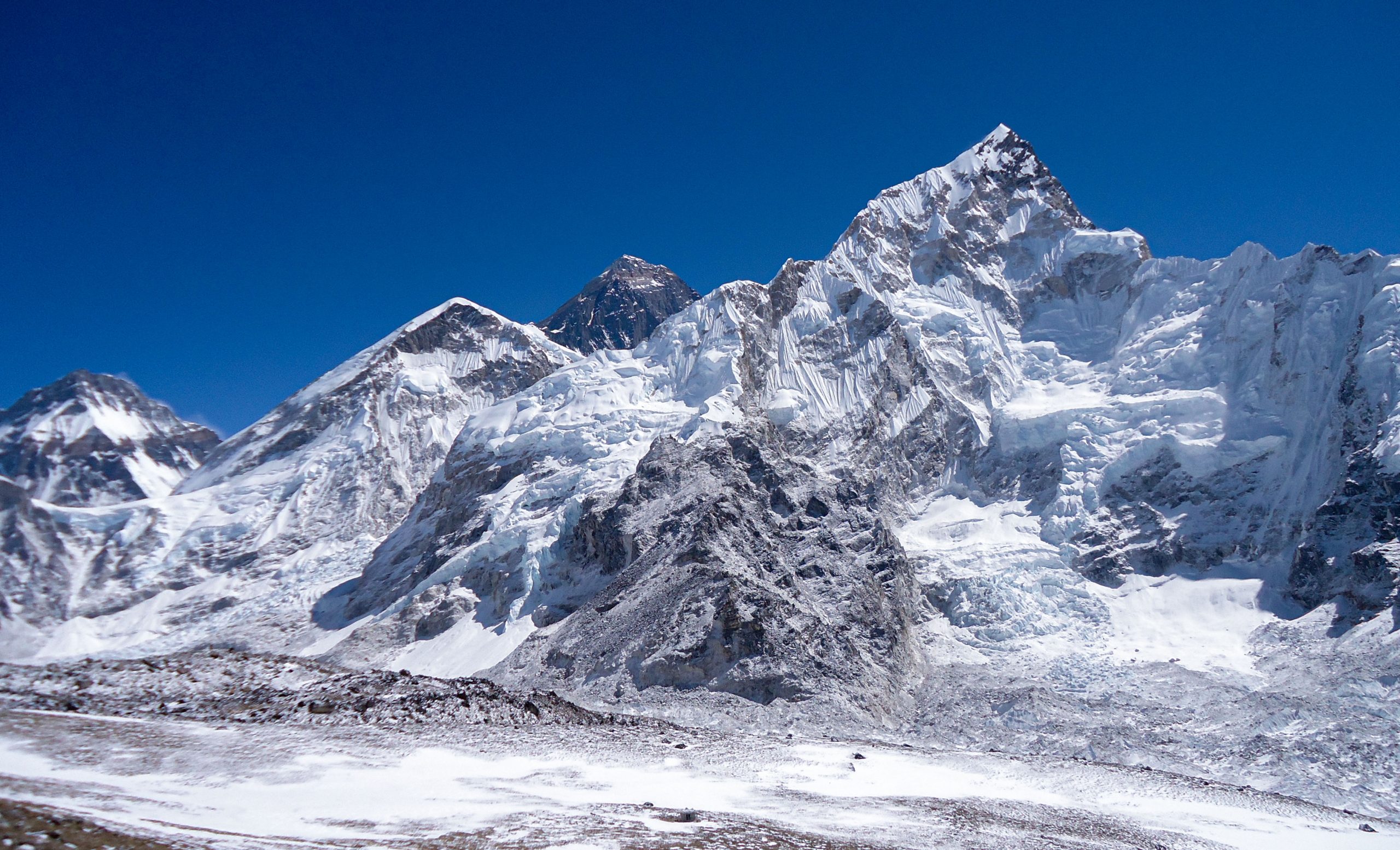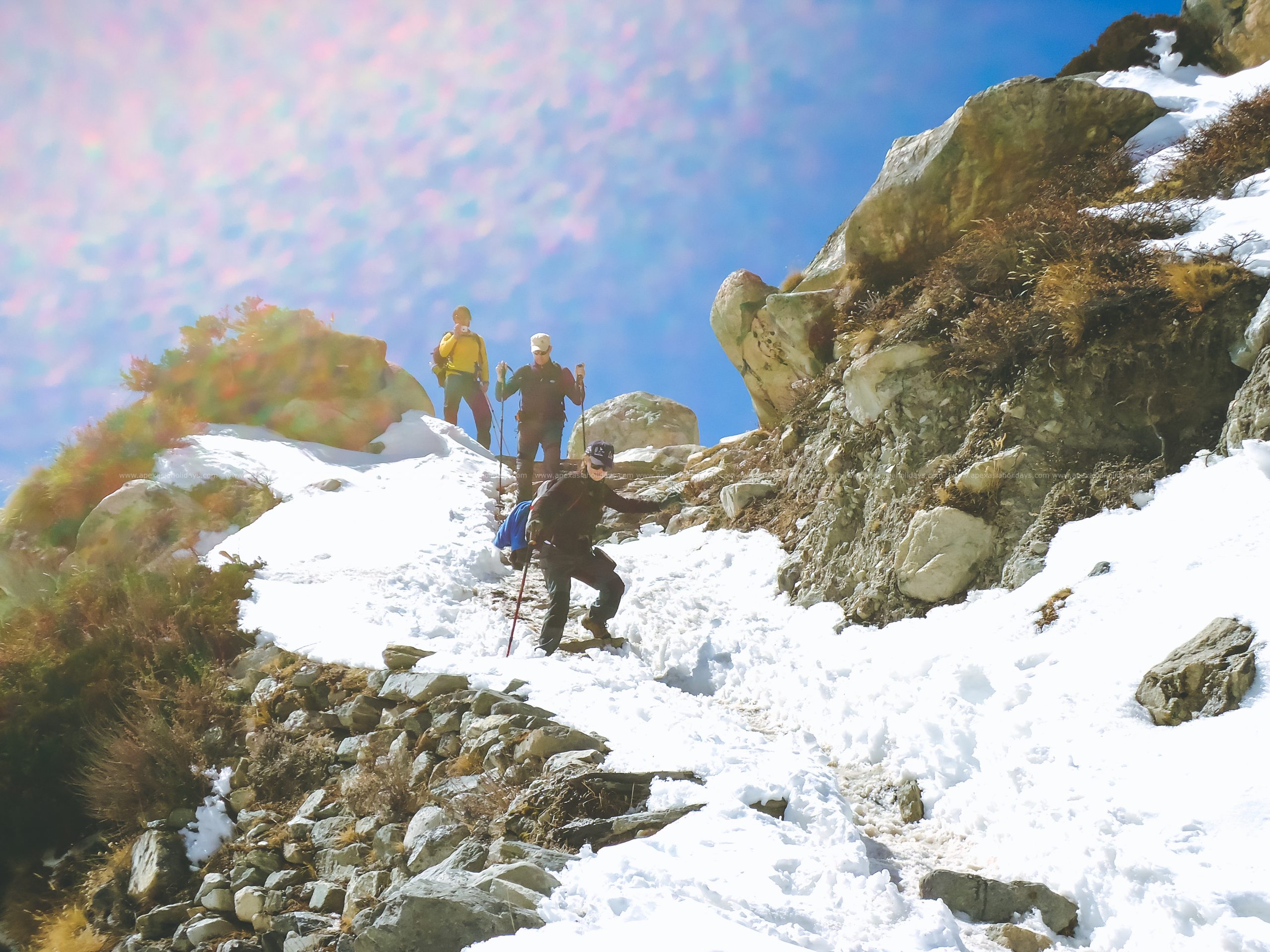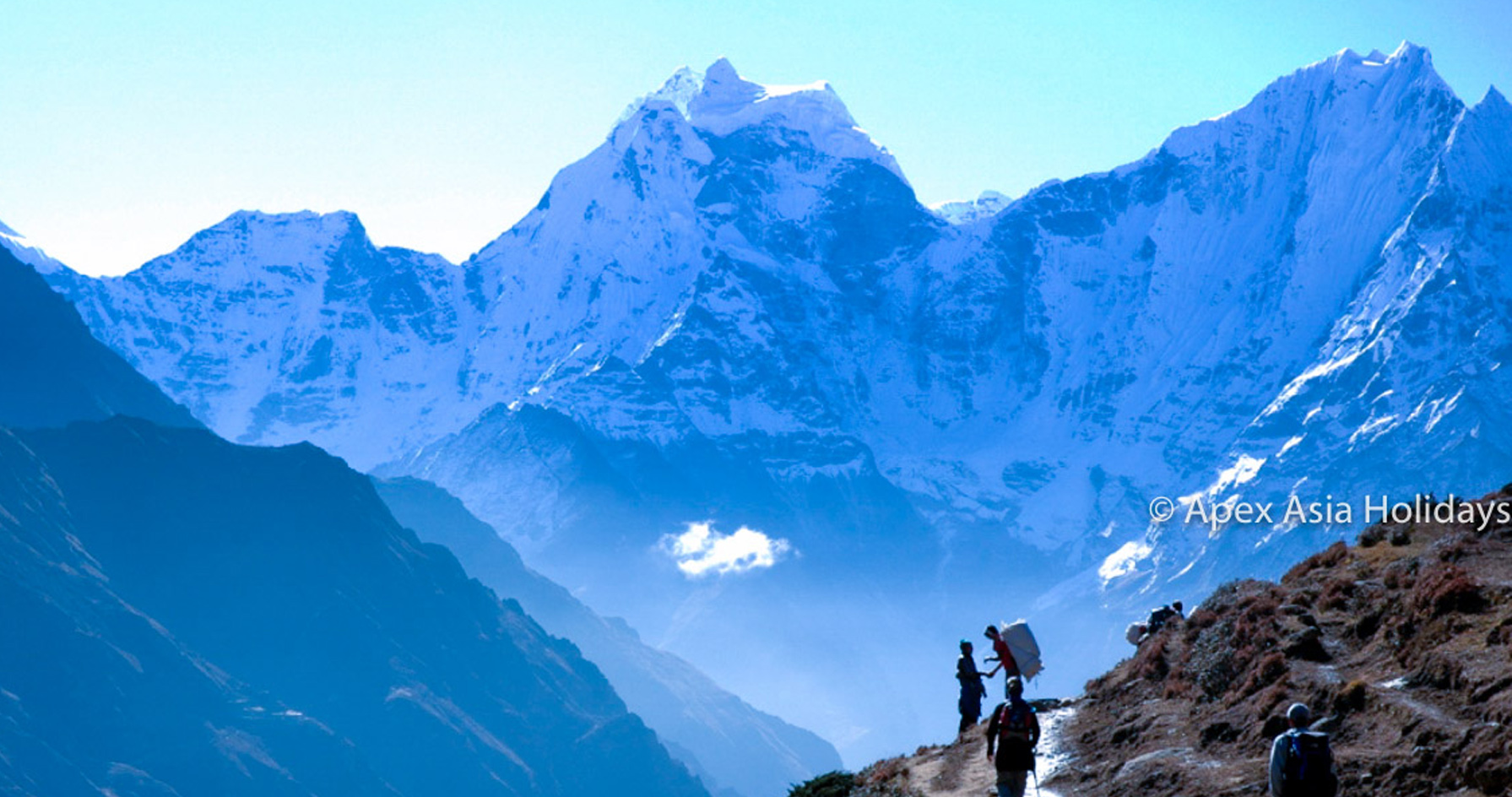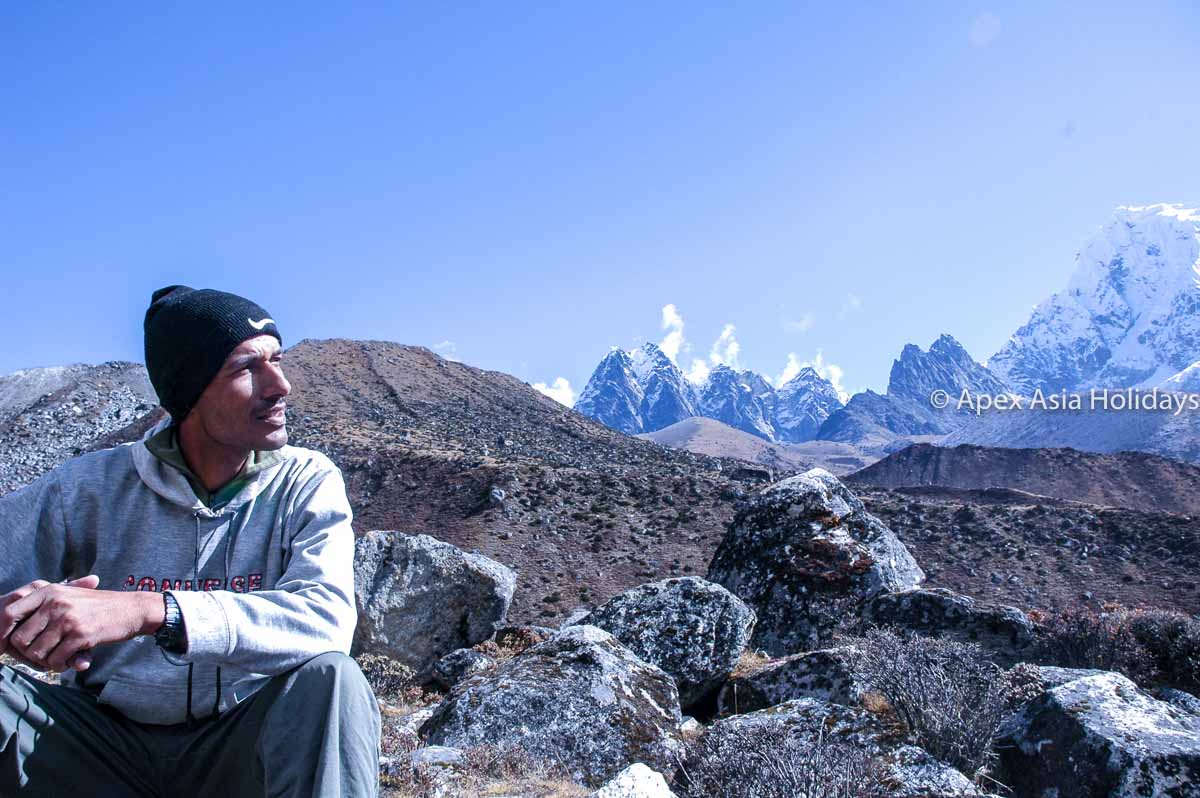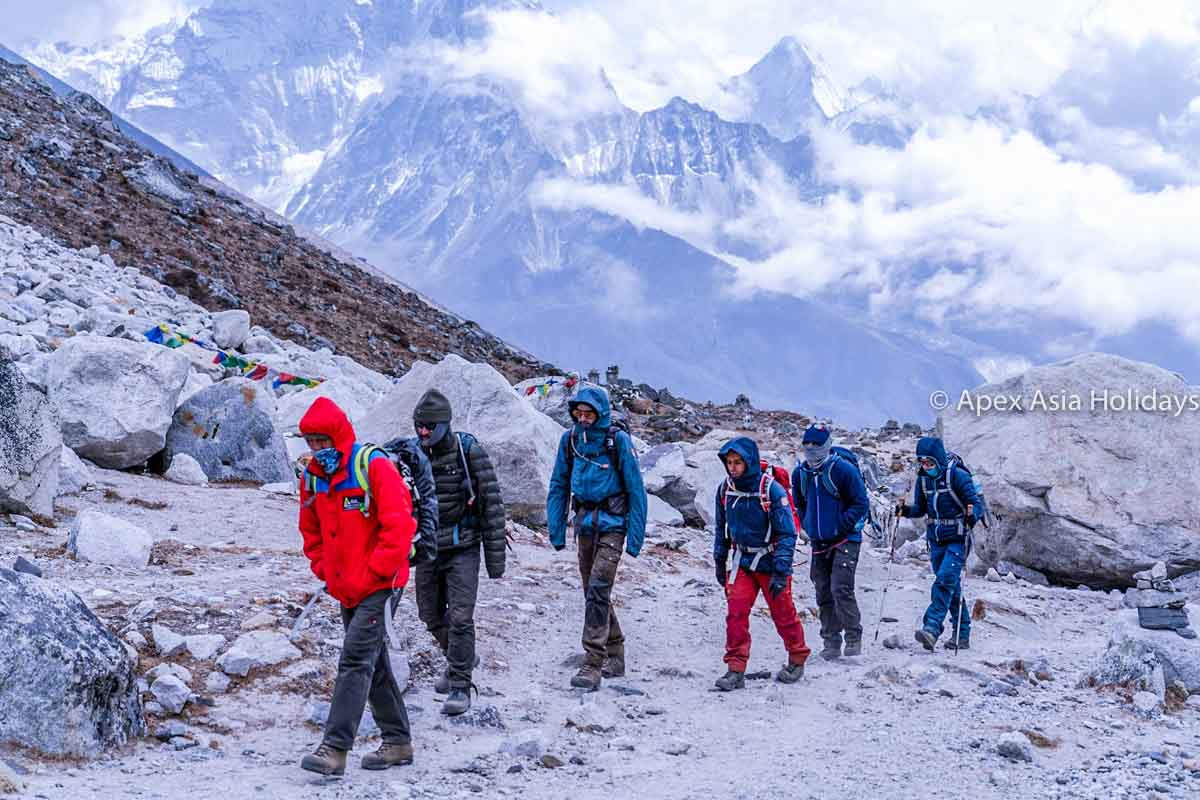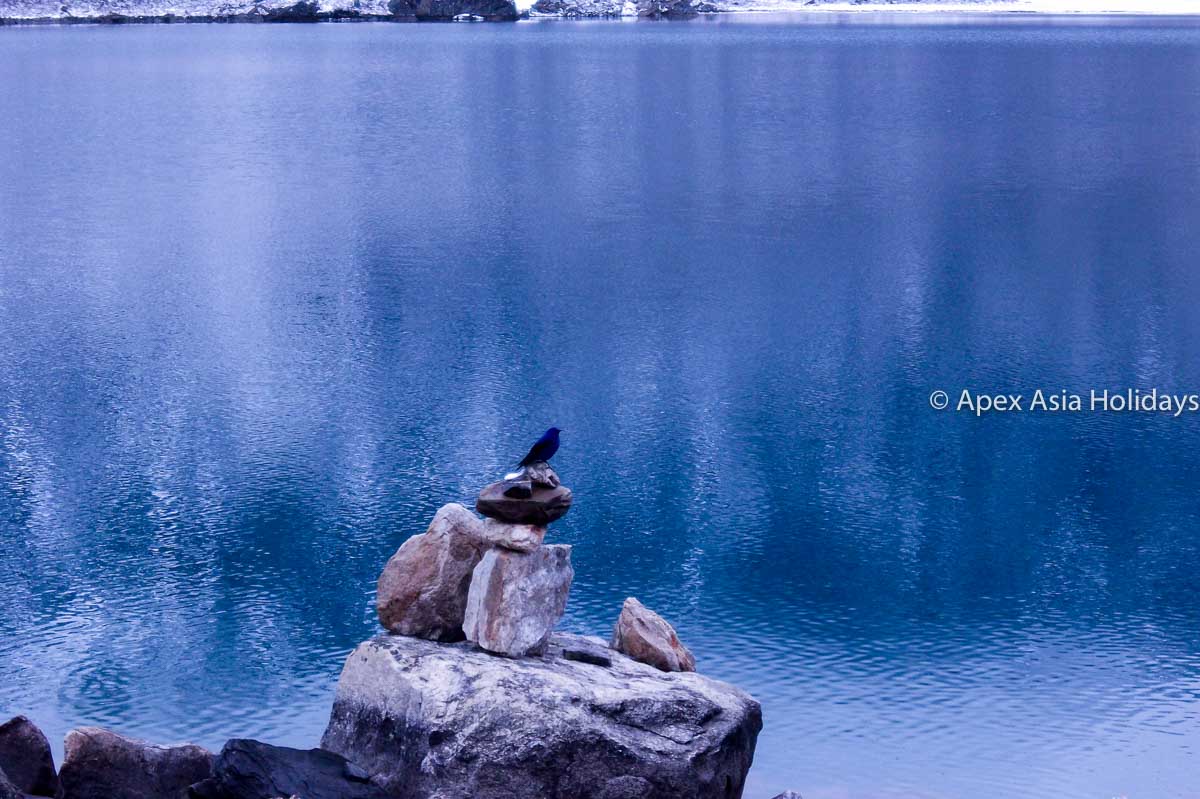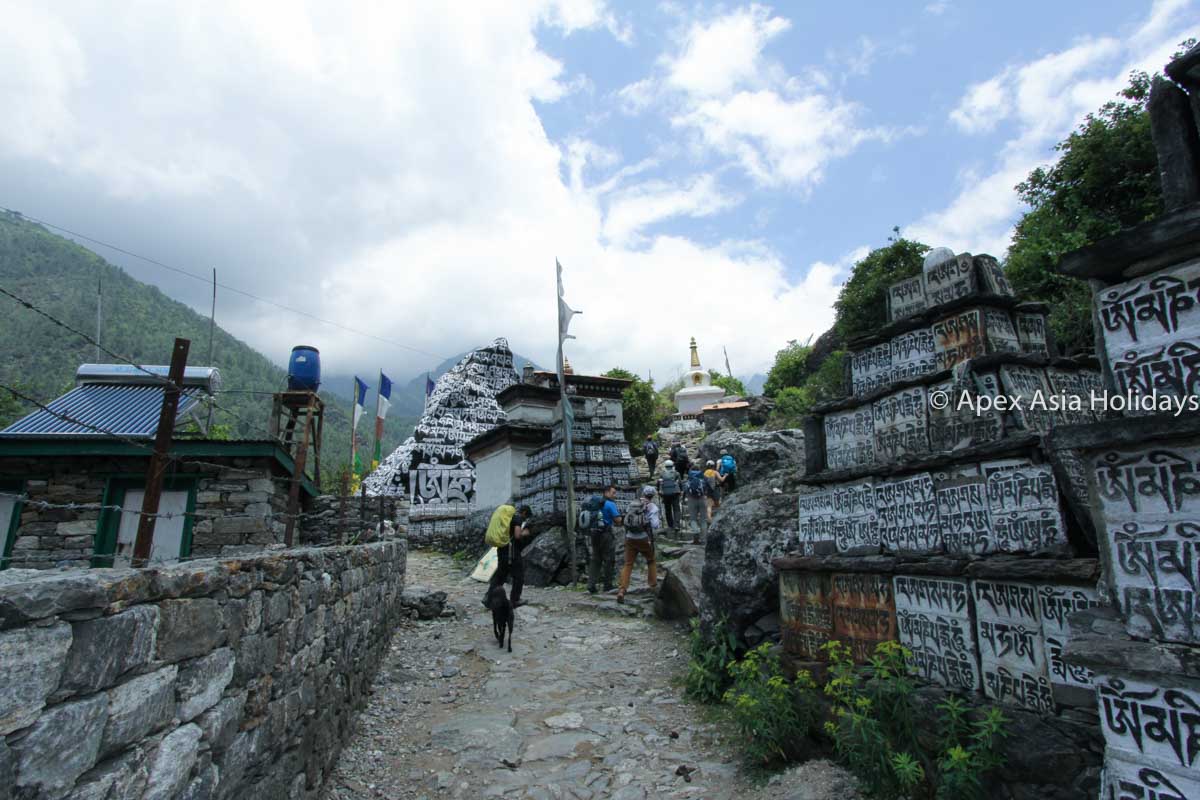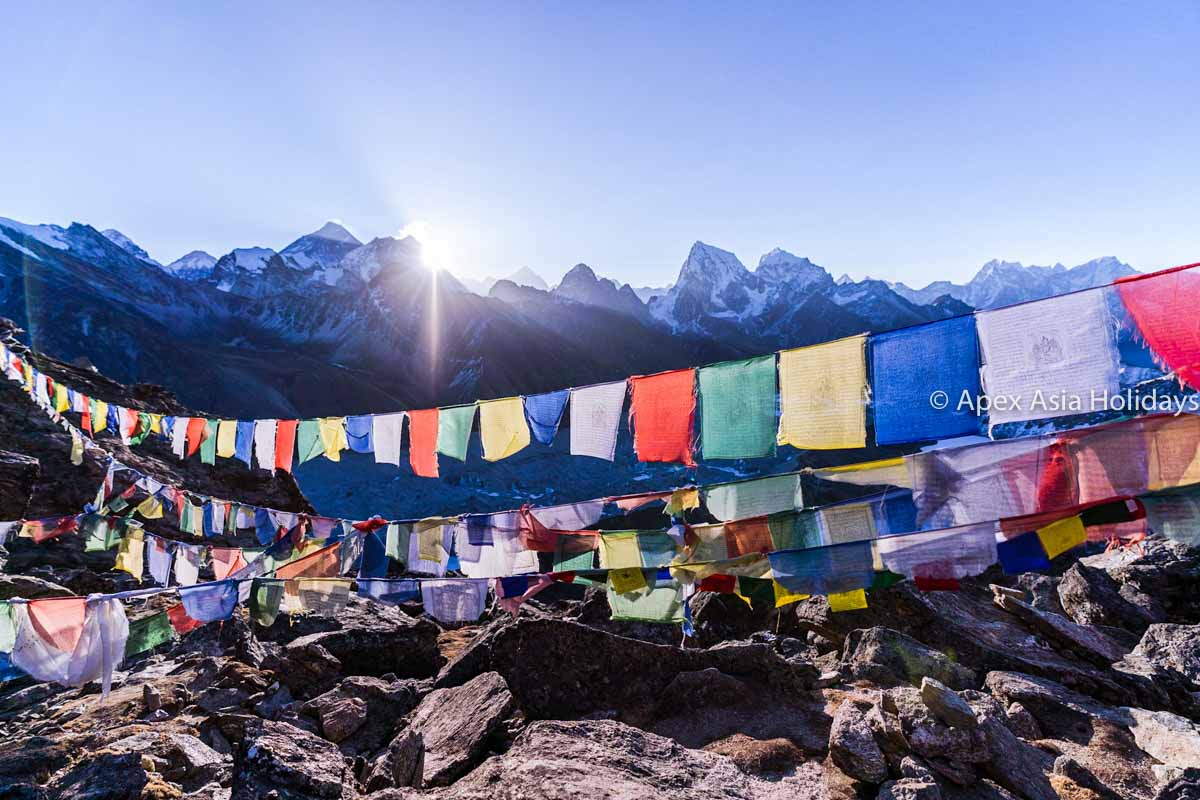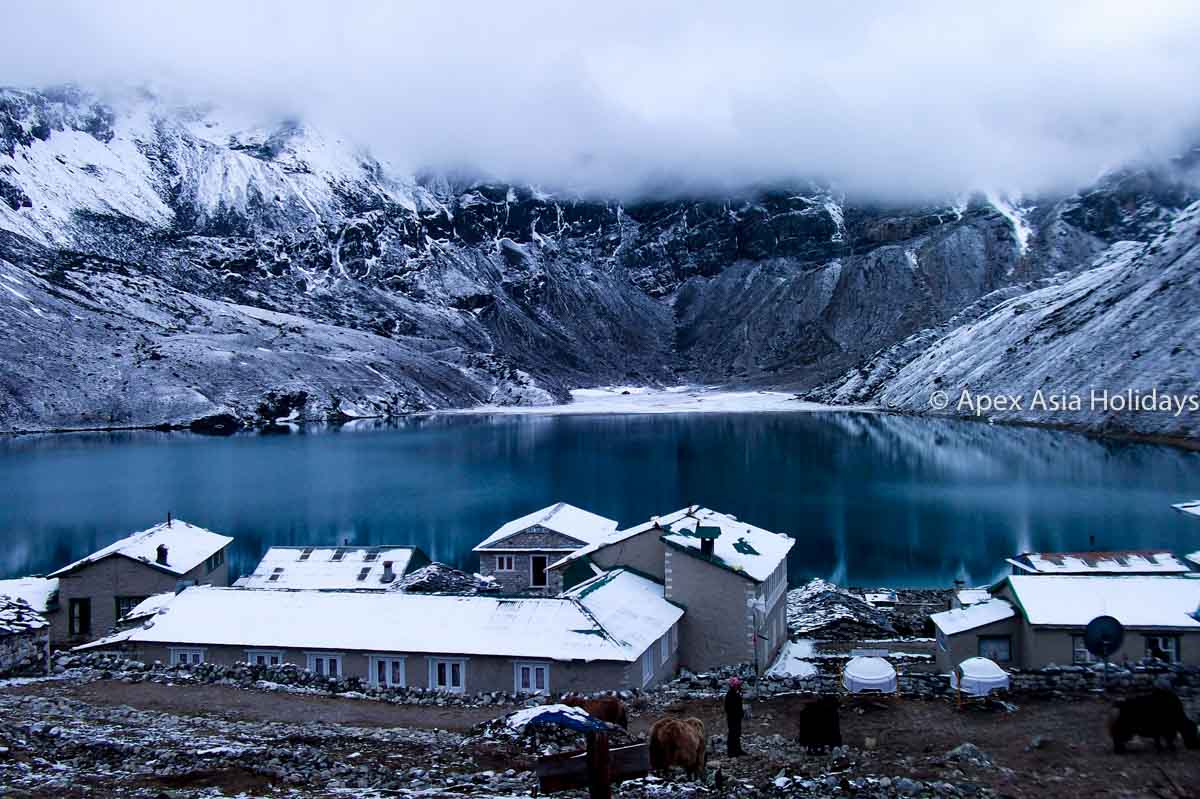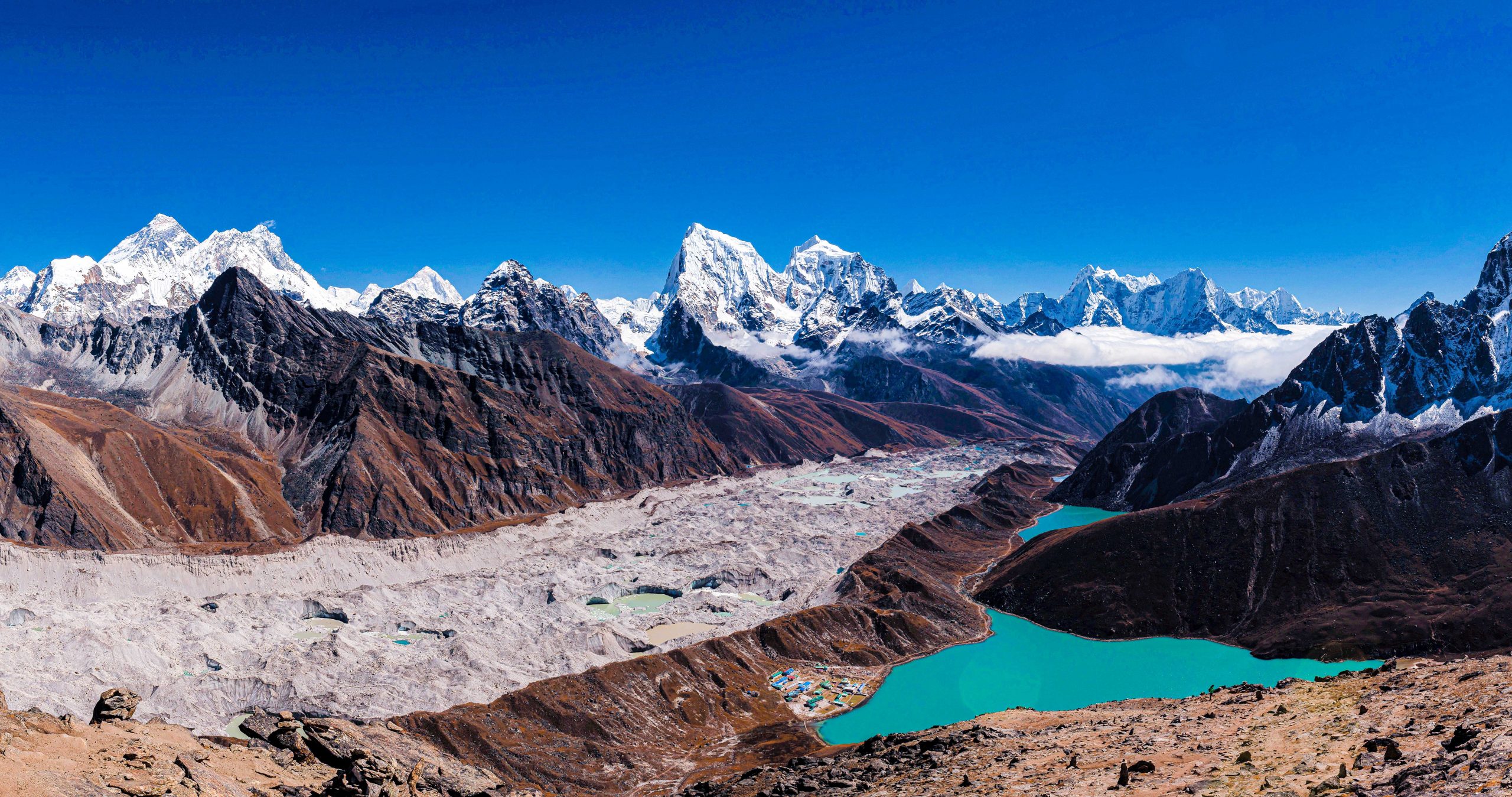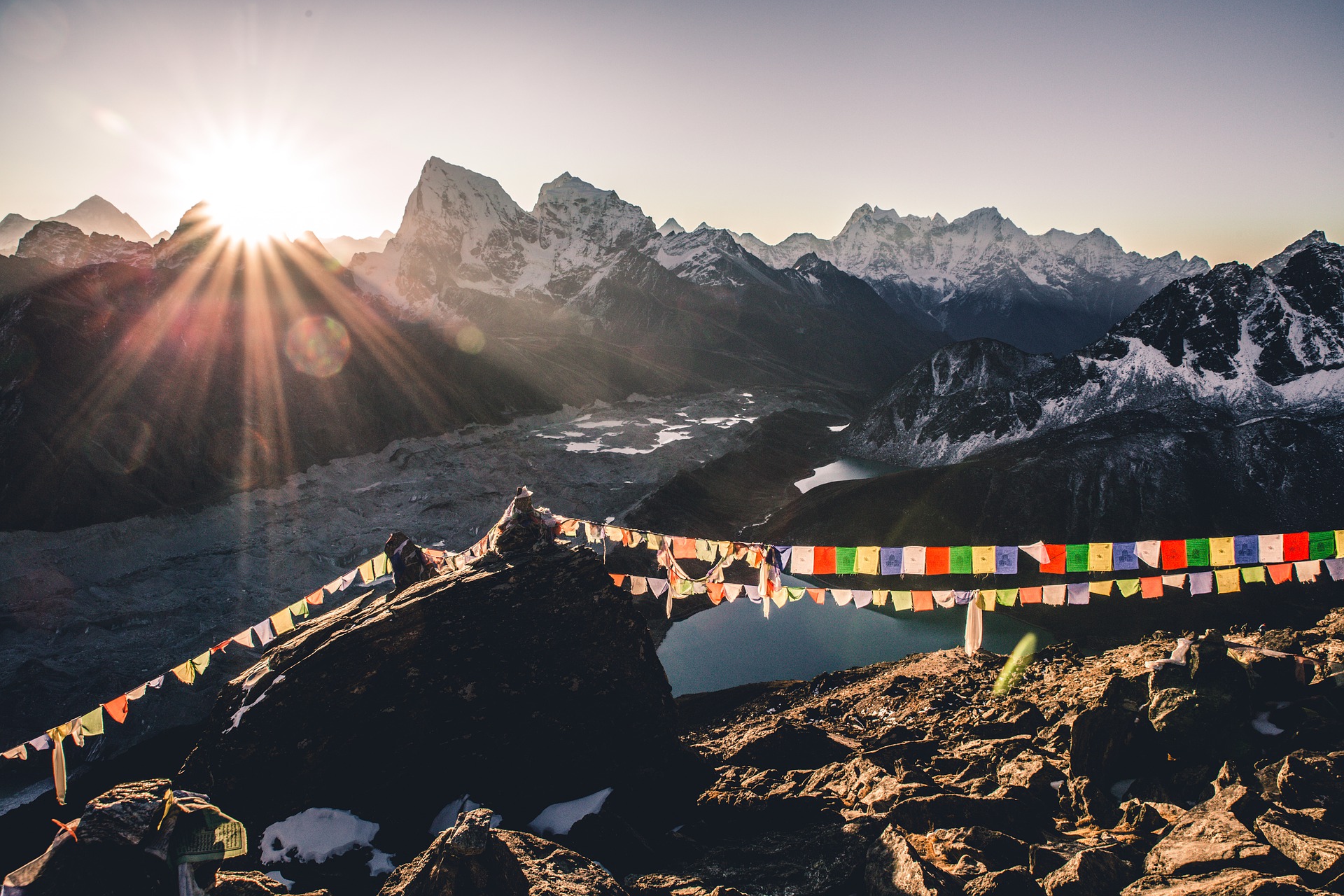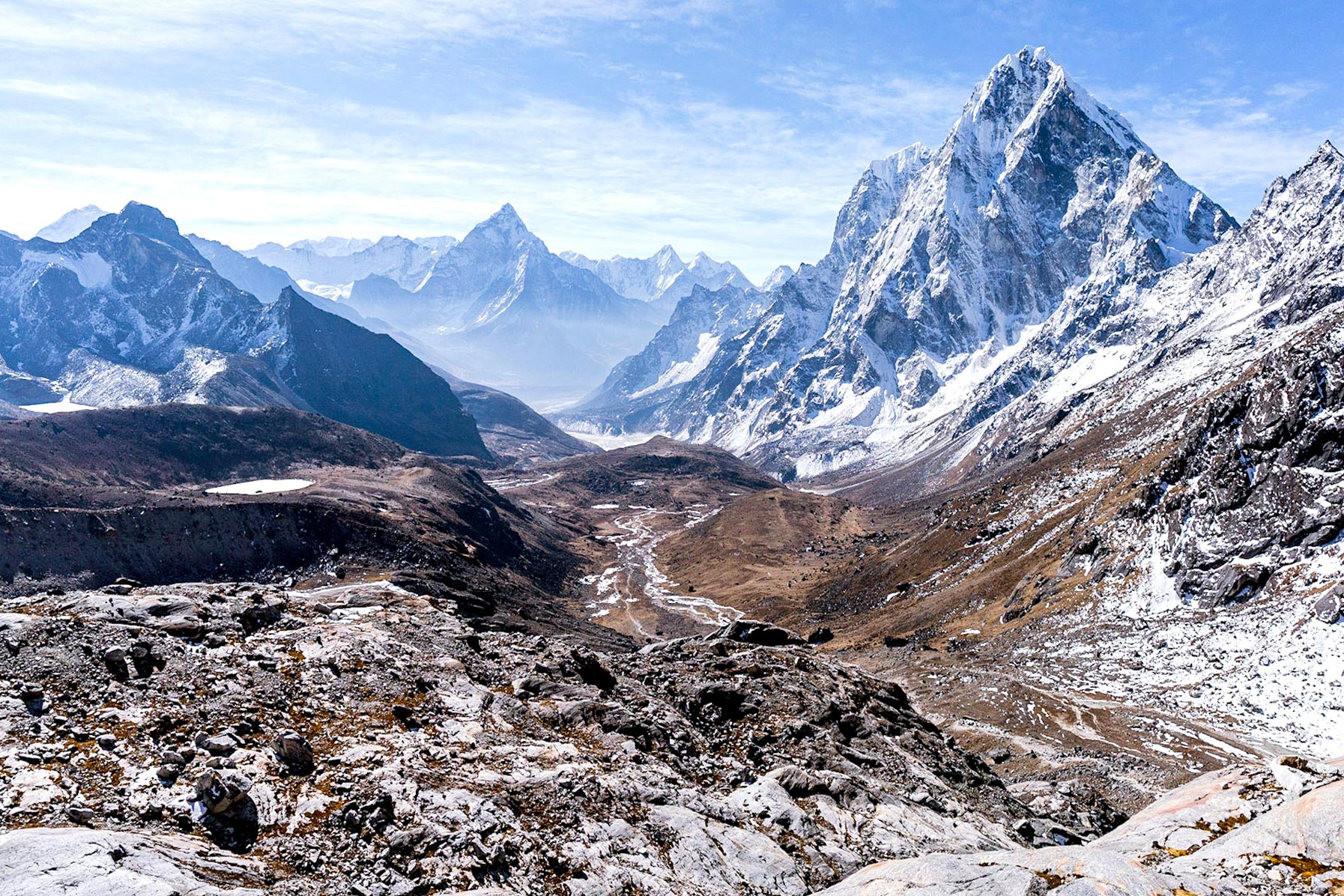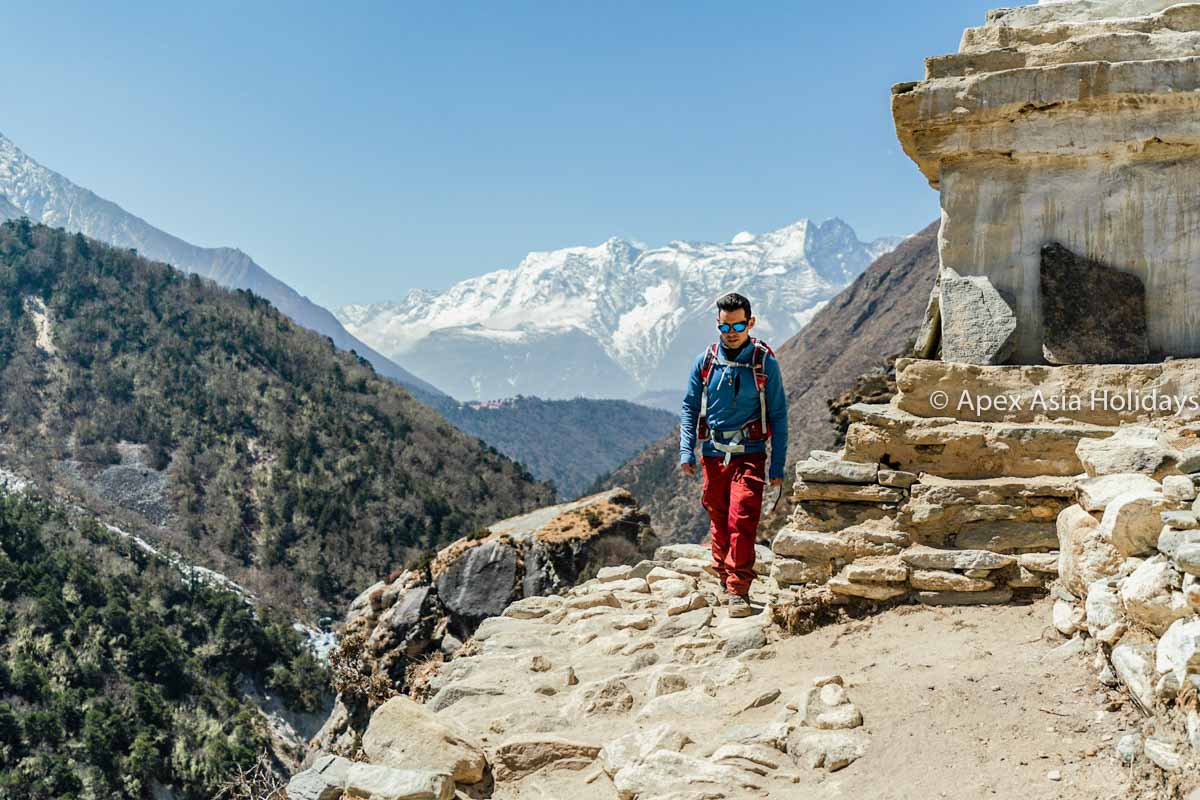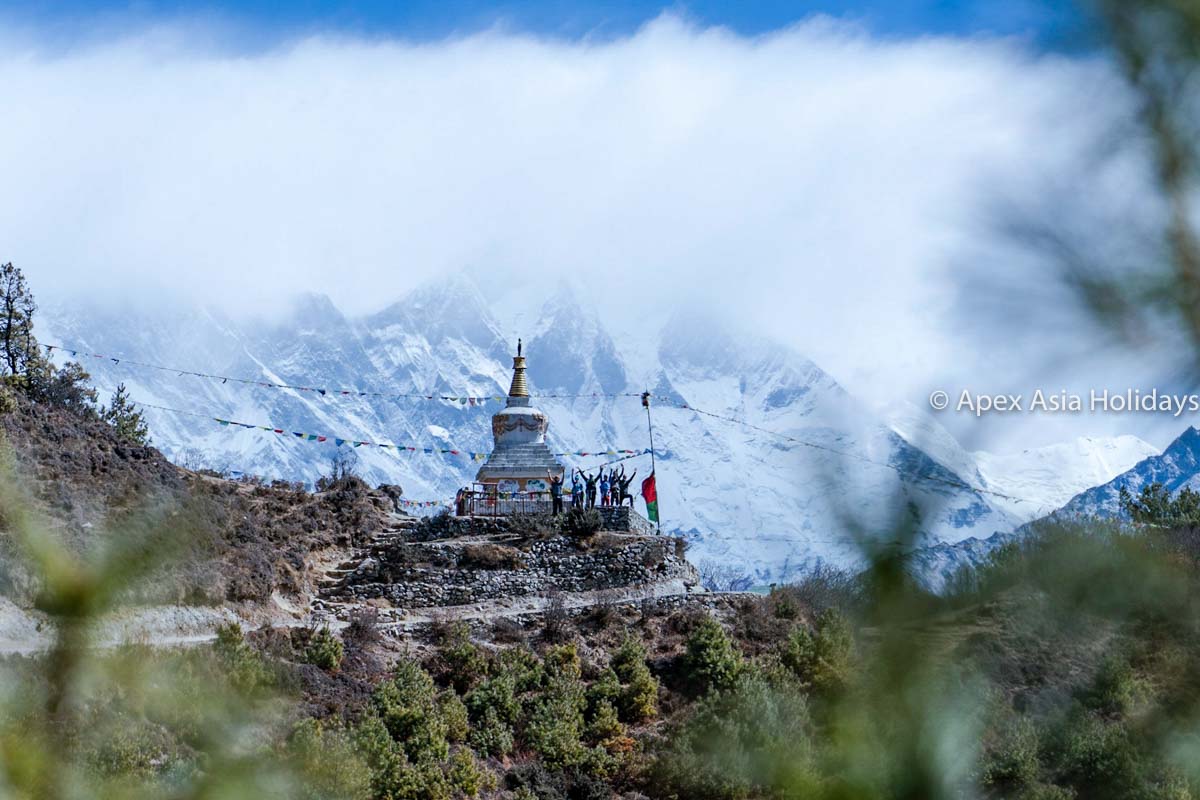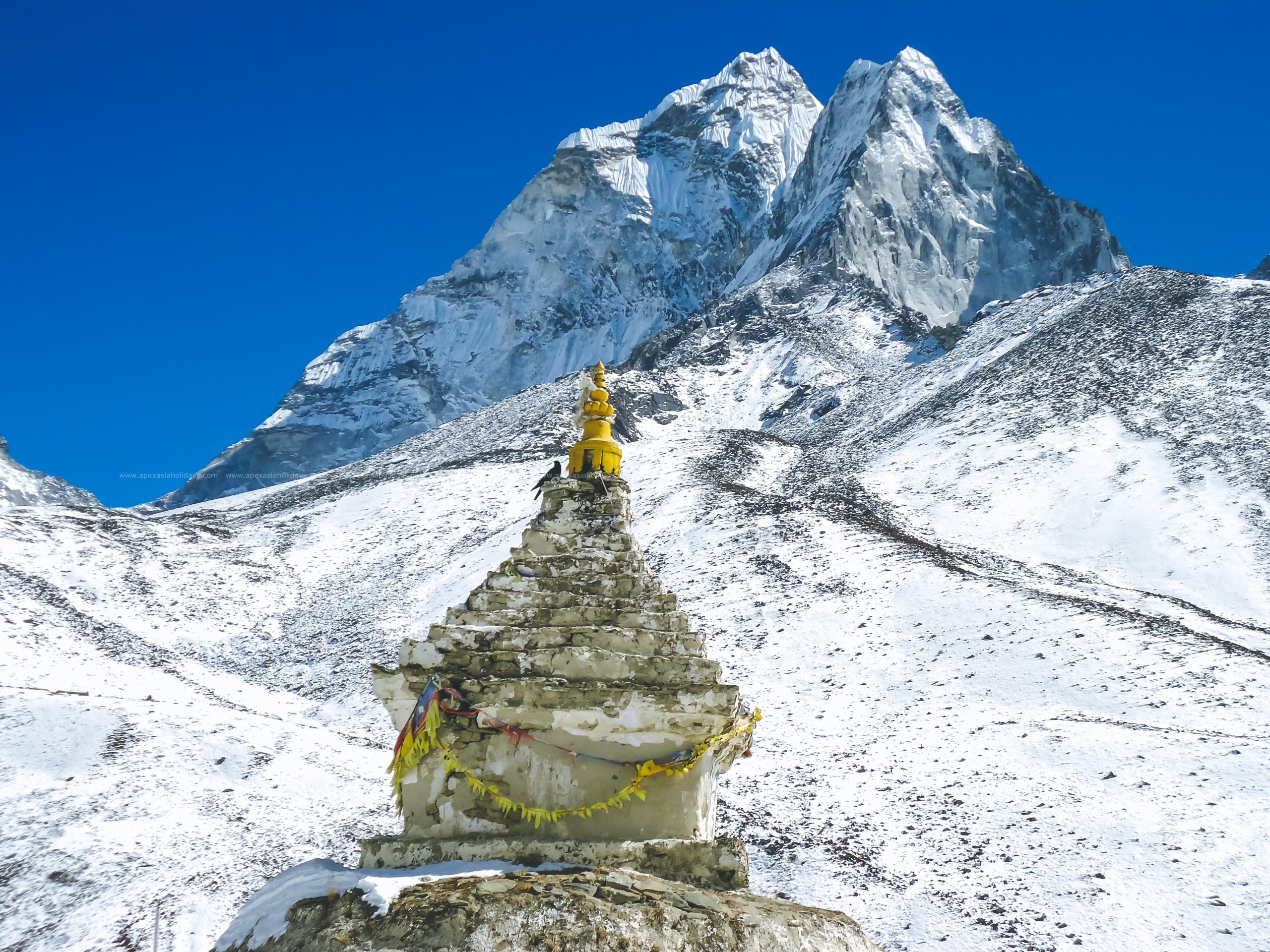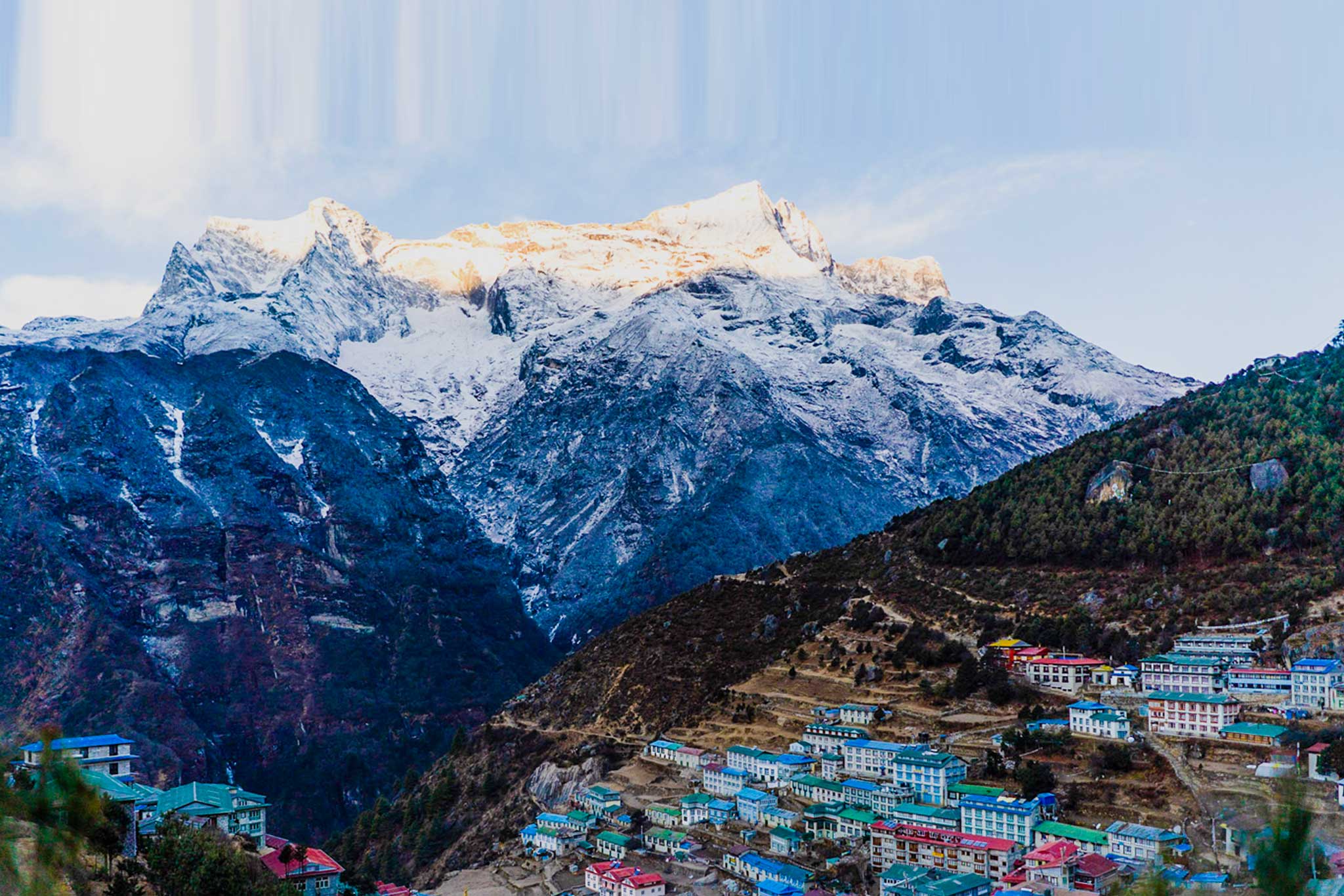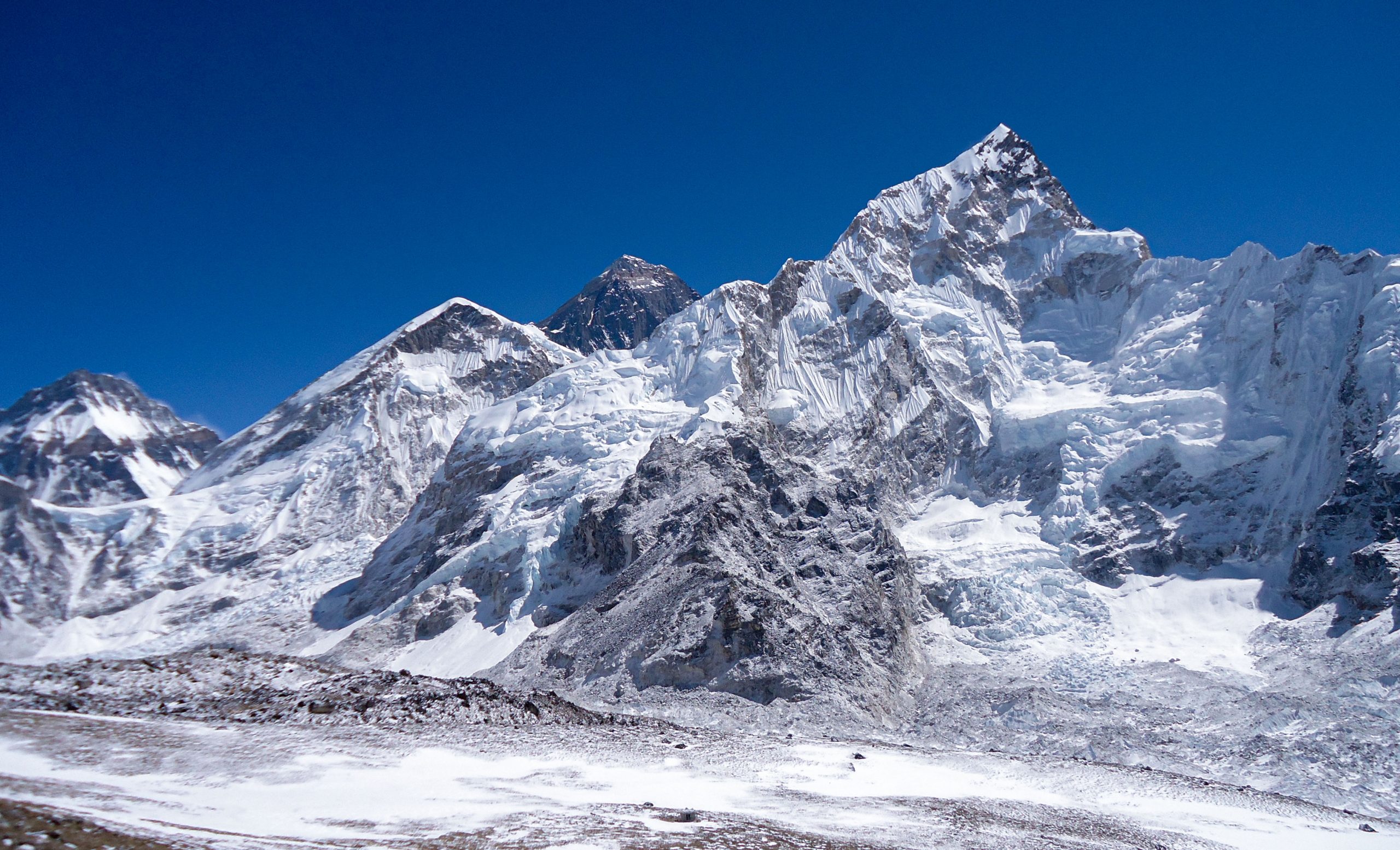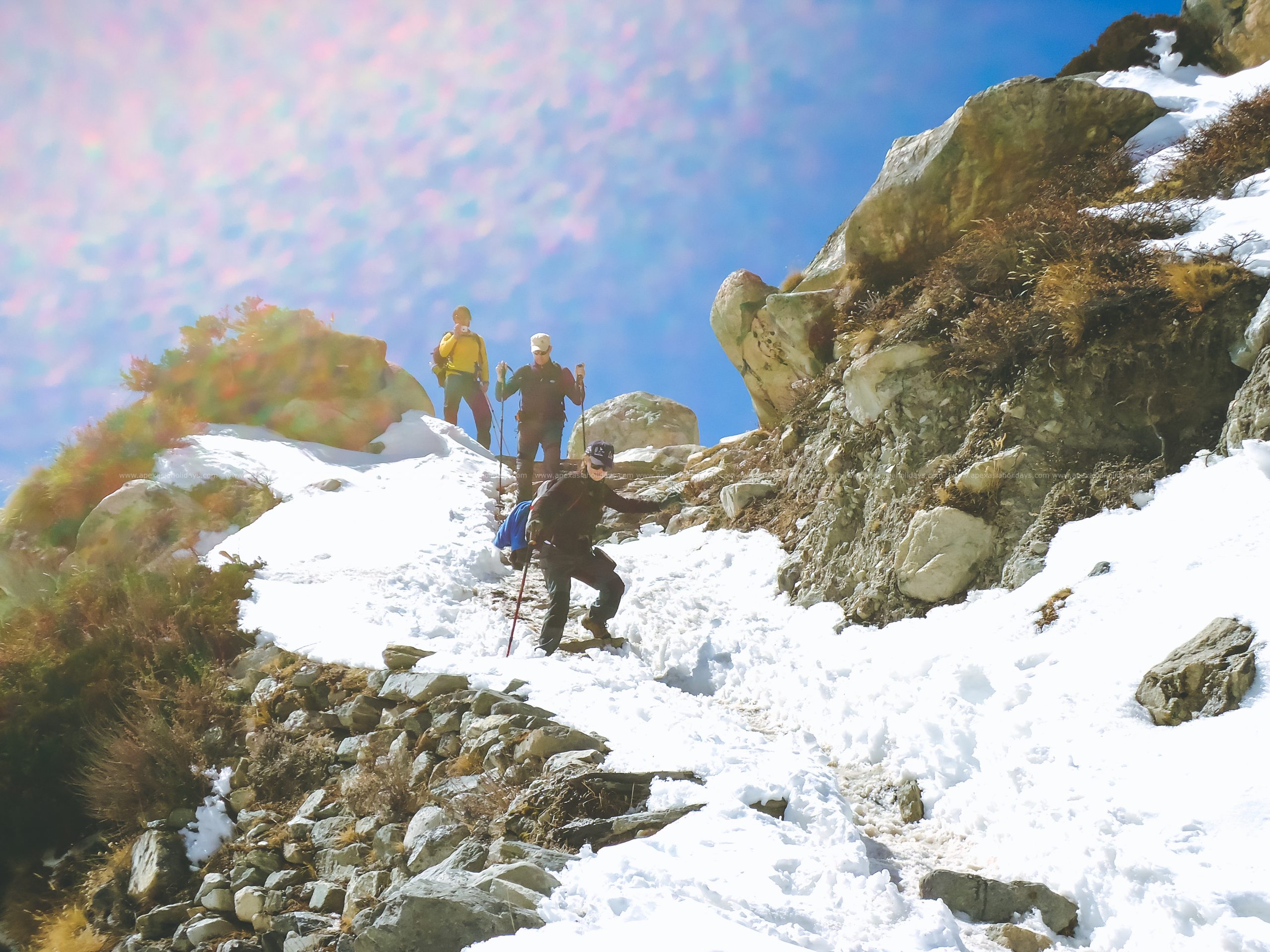 Trip Overview
Ultimate Everest is a complete package of the Everest region. It includes the main highlights of the area; Three Passes, Kalapathar, Gokyo Ri.
Everest Three Passes Trek is an Everest circuit trek covering Everest Base Camp. A short flight from Kathmandu to Lukla marks the start point. Ultimate Everest Circuit trail follows the regular path of Everest Base Camp up to Dingboche Village. From a perspective of difficulty level, it is a tough and challenging trip to Nepal. The itinerary includes the major passes above the 5000m of the region.
Along the trail, we visit different Sherpa settlements. The trek provides an opportunity to collect the knowledge of Sherpa, their lifestyle, and their culture. Furthermore, the combined view of treeline, Himalayan peaks, and Sherpa villages makes the trip excellent. It covers all major destinations and passes of the Everest Himalayas, so it is also known as the Everest Circuit Trek.
The journey starts and ends at Lukla. Lukla is a tiny touristic city of Solukhumbu with Tenzing-Hillary airport. The first camp is in Phakding or Manjo, which is at a lower altitude than Lukla at the bank of the Dudh Koshi river. The next day check-in at Namche Bazaar (3441m). Namche Bazzar is the main gateway to Everest and trading town in the region. Visiting Sherpa villages, hiking in high altitudes, and reveling in stunning views of some of the world's highest mountains are highlights of the trek.
Everest Ultimate – Three Passes
Nagarsang Hill, Kong Ma La Pass, Kalapathar, Chola Pass, Gokyo Ri (5383m), and Renjo La Pass is superb viewpoints of the Himalayas, glaciers, and glacial lakes. First, adventure Kong Ma La Pass is thrilling, adventurous, and challenging. It is bridging between Chhukung Valley and Lobuche Valley. Everest Base Camp is one of the highlight destinations of this trek, which we reach after crossing Kong Ma La Pass. We climb up to Kalapatthar to get a gorgeous view of the mountains, including Mt. Everest. Of course, these mountains are a lot higher but appear at eye level. The next adventure after Everest Base Camp is Chola Pass, which takes us to Gokyo. Gokyo is a valley of lakes, and Gokyo Ri gives a panoramic view of the surroundings.
And final adventure Renjo La Pass is a thrilling pass, which summarizes the trek and starts to trek down to Thame and finally reach Lukla via Namche in three days of the Renjo La Pass, then flight back to Kathmandu.
Trip Itinerary
Day 1

Arrival at Tribhuwan International Airport

Welcome to Nepal! We will receive you the airport and transport you to hotel.

Day 2

Pre-trip meeting and sightseeing around Kathmandu valley

The day beings with a meeting and introducing with your trek and tour leader. After breakfast, we organize a short meeting at the hotel lobby. The meeting finalizes the preparation of the trek. In the meeting, you need to bring three copies of passport copy size photos, and travel insurance copy. Soon, the day tour will starts and on the tour visit most highlighted places of Kathmandu.

PASHUPATINATH TEMPLE

Pashupatinath Temple is one of the most visited and sacred places of Hindu. According to Hindu mythology, Pashupatinath is one of four Dham. It is not only a religious place also the cremation place. The dead body is burning with firewood in the bank of holy river Bagmati.

BOUDDHA STUPA

Bouddhanath Stupa is one of the biggest Buddhist shrines in the world. While touring in Buddha you can meet the monks, learn Buddhism, gather the information about Thankas, and its significants.

BHAKTAPUR DURBAR SQUARE

Bhaktapur Durbar Square is a royal palace built in centuries ago when Nepal had 22 and 24 state kingdom. The palace is famous with the name of fifty-five windows durbar, Nyatapol Mandir the tallest temple in Nepal. The Lion Gate, Golden Gates, The statue of King BhupatindraMalla and the pottery where the potter makes are the main attractions of Bhaktapur.After finished the tour, the evening time is to review the luggage for the trek. If you interested you can walk around Thamel, choose the restaurant for dinner.

Day 3

Fly to Lukla (2,840m). Trek to Manjo (2,630m)

Wake up early in the morning and head to the the airport for a flight to Lukla. We take a packed breakfast today. After a short scenic flight to Lukla, we begin the trek, after meeting our local trekking staff. We reach Manjo via Phakding today, located on the banks of Dhudhkoshi River.

Day 4

Trek to Namche Bazaar (3441m)

Following Dudh Koshi River and then a climb to reach Namche takes approximately 4 hours. We cross the river several times, encountering yaks and mules along the trail. Finally, the trail on the banks finishes and we start ascending on a steep gradient up, crossing the highest suspension bridge of Everest Region. The climb is steep, so we walk at a comfortable pace. Finally, we reach Namche, the biggest town in the region. Enjoy the lunch and stroll around Namche and visit a museum that belongs to Sherpa culture, and the history records of Mt. Everest expedition by Tenzing Norgay and Sir Edmund Hillary, the first ones to scale Everest.

Day 5

Trek to Khumjung

Today you will hike up to Syangboche and The view of Namche, Khumjung village, and the massive summits in front are stupendous from Syangboche. And continue to Khumjung village. Explore the village, museum, where we see skull of Yeti.

Day 6

Trek to Tengboche Hill Station (3880m)

After breakfast at the hotel, we heard north towards Tengboche, a superb hill for photography and Himalayan view. The monastery at Tengboche is one of the major highlights of Everest Base Camp standard trek. To reach Tengboche we need to walk for about 6 hours today, which includes a steep uphill bit on the second half of the day. In the evening, we walk around the Tengboche monastery and visit the monastery. Enjoy the beautiful evening with spectacular views at Tengboche Hill.

Day 7

Trek to Dingboche (4350m)

After breakfast we trek down to Debuche and continue on to Pangboche, which is a major Sherpa settlement. Walking through the village, we get to see Mt. Ama Dablam towering us from the right, making a picture perfect setting for the village to be in. In fact, the mountain will be at a stone's throw away from us as we walk. On undulating trails we cross a river and make a short climb up to Dingboche valley.

Day 8

Hike up to Naragsang Hill (5,090m)and Trek back to Dingboche (4,350m)

Today is the second rest and acclimatization day of this trek. After morning breakfast, we will walk around Dingboche. We hike up to Naragsang Hill. After returning from the day hike, we rest at the guesthouse and prepare for next day. Enjoy a hearty dinner in Dingboche.

Day 9

Trek to Chhukung (4710m)

From Dingboche to Chhukung is about two and half an hours walking in slightly uphill at the altitude of 4710m.

Day 10

Trek to Lobuche via Kongma La, 5,535 m

Get Up early morning and starts the first adventure journey of this program. We need to pack lunch for that and have to order in the previous night, that is done by the guide. The trip begins from about 5:00 AM in the Winter and 4:30 AM in the Autumn and Spring with the headlamp. It depends on the walking pace, normally reach at the top in 3.5 hours. The beginning is not so much tough but in the end, need to push up that may be hard. After reaching the top the view heals up the pain and relaxes the tiredness. And finally, get to Lobuche via crossing the tough glacier.

Day 11

Trek to Everest Base Camp (5,365 m) then back to Gorak Shep (5,170m)

Today we walk to the main destination of the trek – Everest Base Camp. The rocky walk by the Khumbu glacier is quite rough and precarious on some bits, so do be careful. The first village we reach is Gorakshep where we have our lunch and continue to Everest Base Camp. On the way to Base Camp it is important to bring some snacks and water. Explore the Base Camp and return to the guesthouse which is about 5 hours up and down.

Day 12

Hike up to Kalapattar (5,555m) early in the morning and trek to Dzongla

This is also a challenging day. Early morning we hike up the Kalapathar to catch the sunrise. As we climb up the mountains come to an eye level. We get a panoramic view of the Khumbu mountains from the top, from where we can see Mt. Everest, Mt. Nuptse, Mt. Pumori, Mt. Lhotse and many others peaks. You make an easy descent to Gorakshep and have breakfast before trekking to Dzongla, a tiny hamlet at the base of Cholaste mountain.

Day 13

Dzongla to Gokyo via Chola Pass (5360m)

Again, early morning get up and ready for the next adventure of Chola Pass. It is an iconic pass of Everest. Today also we need to carry packed lunch because we not get any teashops until we get to Thangna. It is a quite long day and nearly 500m we need to walk above the ice-path. Crampons are ideally good for walking on the icy path. Once you reach the top, you will be rewarded with astonishing views of the Himalayas. After Chola Pass we need to cross the largest glacier, Nagzuma to get Gokyo.

Day 14

Trek to Gokyo Ri (5,383m) and back to Gokyo

An early morning hike up to Gokyo Ri (5383m) takes us to an amazing viewpoint to see the mountains. After, about 2.5-3 hrs hiking you will be on the top of Gokyo Ri, one of the highlights of the trip. From here, you can see a panoramic view of mountains including Mt. Everest, Mt. Lhotse, Mt. Makalu, Mt. Cho-Oyu, Mt. Nuptse, Gyachung Khang, Numbur, Thamserku, Cholatse, and Tawoche in addition to Ngozumpa Glacier and Gokyo Valley and the lake by the side.

Day 15

Trek to Lungde via Renjo La, 5,340 m

It's the final day for the early morning wake-up, walk-in torchlight, and have packed lunch. Renjo La Pass and its path are comparatively easy than others; Kong Mo La and Chola Pass. From the beginning to the Renjo La the trail is steep up and long. Once you get on the top then you will forget everything, none of the passes or viewpoints can beat Renjo La. It gives a beautiful view. From here we can Mt. Makalu as well. After spending an amount of time we trek down to Lungde.

Day 16

Trek down to Namche Bazaar

Our journey to Namche from Lungde starts after breakfast. Today we descent to Namche via different towns; Marlung, Thame, Thomo. Finally we reach Namche Bazaar.

Day 17

Trek down to Lukla

After finishing the trek, we make our way to Lukla which will be our final stop in Solukhumbu region. For lunch, we stop at Phakding, a village that lies on the banks of Dudhkoshi River

Day 18

Morning Fly back to Kathmandu

This morning you will flight out from Lukla to Kathmandu, and upon arrival your guide transfers you to the hotel. A good rest after a long trek will be crucial. In the evening, you have leisure time to stroll around Thamel and do any souvenir shopping if you like.

Day 19

Trip Conclude, final departure.

The trip concludes today. Your guide will drop you off at the international airport for your departure back home.
Itinerary Info
Standard Itinerary and Private Trip
It is the notice about Standard Itinerary and Private Trip. The provided itinerary is standard, and if you want to customize it, you can do it. OR you can go through our
Plan Your Holidays
page.
Travel Insurance and Covers
We strongly recommend you have travel insurance that covers the adventure activities such as trekking/hiking above 15,000 feet. And must include flights delayed/canceled by bad weather, accidents, evacuations, etc.
Keep in Mind
Sometimes, unusual weather changes, natural disasters, flight delays, and cancellations, government rules, local political situations, health conditions of trekkers may change your itinerary. At that point, our leading guide will decide and try to minimize the impacts and run the trip smoothly, but we are not liable for any additional costs if needed.
Always options for Upgrade
Please you can upgrade your accommodation and transportation service to regular. We can provide you with 5Star hotel accommodation and the best available private car/ jeep services. And also domestic flights including the Helicopter Charter.
Lukla Flights:
All we know is that the Lukla flight is sensitive in the case of weather. Instantly it may be delayed and canceled as well. A tiny Himalayan airport has difficulty facing heavy traffic that is why sometimes the flight may be delayed. So, we suggest, if you are trekking in Everest, please make sure at least you have two days additional in the program.In the case of a weather cancellation, the best alternative to get Lukla is to charter a helicopter because the copter can fly in lower visibility of 1,500 meters. However, Twin Otter and Dornier aircraft need minimum visibility of 5,000 meters.
What about the Helicopter cost? Is it getting instant or need to be in the queue?
A helicopter charges US $ 2500 per flight to Lukla from Kathmandu. And the US $ 500 per person on a sharing basis. Except for the emergency, during the high season and extreme weather of Lukla, you may not get a helicopter instantly or need to be in the queue. Also, if you have requested the Helicopter for less than 24hrs, you may need to wait because of the limited number of helicopters, and they're using various activities in the mountains.
Lukla flight from Manthli Airport, Ramechhap
Due to the air traffic in Kathmandu during the peak months (March, April, May, September, October, and November), CAAN has promulgated the notice that the flight has been shifted to Manthali from Kathmandu to Lukla. If there are changes will update you ASAP.
What Includes & Excludes
Includes
From and to airport transfer to hotel on a private tourist vehicle
Three Nights hotel accommodation in Kathmandu in a standard hotel
Fullday guided sightseeing in Kathmandu.
Kathmandu-Lukla-Kathmandu domestic airfare
From and to airport transfer to hotel on a private tourist vehicle
Accommodation, foods, insurance, salary, equipment, and medicine for field staffs.
Trekking/tour permits, entrance fees.
Farewell dinner one night before the client's final departure in a typical Nepali Restaurant with culture dance. Your guide will accompany you.
All government taxes and official expenses.
Excludes
International airfare to and from Nepal.
Visa fees and travel insurance.
All drinks including bottled/boiled water along the trekking route
Lunch and dinner in the city.
Tips for trekking staff (Tipping is expected).
Personal trekking gears/equipment.
Anything not mentioned in the price includes.
HOW ARE WE DIFFERENT?
We operate this trip with aiming:
To improve the lifestyle of local people
To protect the environment
To respect and promote the culture of the local community
To create the Volunteering Opportunities
To donate 5% of each trip cost to the COSD Nepal organization
We hire the local people as trekking staff, which creates the opportunity to learn and share the cultures, get exposure to local traditions. You can enjoy the local product feasts in the teahouses and lodges that directly help their business.
Namaste [Namaste is usually spoken with a slight bow and hands pressed together, palms touching and fingers pointing upwards, thumbs close to the chest] is the respectful greetings in Nepal.
Walk-in clockwise direction around temples, monuments, MANE Stone, MANE-wall is the culture of Hinduism and Buddhism.
Enter temples and with removing shoes and also leather.
Ask permission to take any portrait of locals.
Use right while giving and receiving food, eating, wiping mouth, etc.
Please dress in loose-fitting clothes while entering temples and monasteries.
A small group of travelers led by the local trek leader, we try to minimize the impacts on natural resources and the environment during the trips. We emphasize reducing waste. Encourage travelers to use a refillable water bottle instead of a single-use bottle.
We are also a supporter of the Community Organization for Sustainable Development Nepal (COSD Nepal). And, we collect 5% of the total payment of each trek to contribute to the organization.
Volunteer Opportunity
We have a volunteer trip operating in a local school in Gorkha. Through this trip, you can directly support the children also the teachers' educational status.
Add-on Activities

Equipment List
Here you will get a basic idea of the equipment and items of clothing that you need to carry on the trip. Apex Asia Holidays provide you with a gratis duffel bag in Kathmandu to pack your trekking luggage.
Note:
Non- trekking items can store at the Hotel lockers in Kathmandu.
If you are trekking in Everest Region: Kathmandu- Lukla Flight only allows the 15KG including hand-carry bag.
You must have to carry a down jacket from above 4000 meters to keep warms. You can hire a down jacket and sleeping bag for USD 30 with us.
Upper Body - Head / Ears / Eyes
A cap to protect your ear and neck from sunlight
Warm wool or synthetic hat
Neck Warmer
UV protective glaciers sunglasses - better to have side shield.
Hand
A pair liner woolen gloves for mild days and heavy for morning and evening
Core Body
Three cotton t-shirts
Three synthetic t-shirt
Two long sleeve polyesters, light colored shirts for sunny days.
A soft shell jacket, water resistant, with insulation, underarm ventilation zippers. The full front zipper is preferable for ventilation.
For women two synthetic sports bras, no cotton.
Two pairs of nylon hiking shorts.
Underwear, stay away from cotton.
Two pairs lightweight long underwear.
Lower Body
Two pair trekking pants, preferably that zip on/off at the knees.
Feet
At least four pairs of liner socks, synthetic. And three pair heavyweight socks to be worn over liner socks.
A pair of lightweight socks, a good option for the lower / warmer parts of the trail and also on lodges at the time of dinner.
A pair light to medium weight waterproof hiking/trekking boots. Make sure the size and should have to be avoidable for blister.
A pair light trekking shoes or sneakers to wear in and about camps or lodge.
Shoes
Other Essential
Medicine and First Aid
Ibuprofen for general aches and pains
Extra Strength Excedrin for altitude related headaches
Immodium or Pepto bismol capsules for upset stomach or diarrhea
Anti-infection ointments
Band-aids
Lip balm (At least SPF 20)
Sunscreen (SPF 40)
Miscellaneous but Important
Passport and extra passport photos (2 copies)
Airline tickets
Durable wallet/pouch for travel documents, money & passport
Water bottle/bladder
Water purification Iodine tablets
Toiletries
Important Info
TRANSPORTATION

In Nepal, there are two kinds of transport, public and private. We mostly recommend you to use the private than the public because the roads two ways that make traffic, and the private vehicle can avoid the traffic by choosing the proper time for less traffic.

MEALS

In Nepal, you will get the extensive food menu. From the international food menu to local foods. Dal Bhat is the main course of Nepal. Your guide will help you to choose the suitable food, on the trek and tour.

ALTITUDE SICKNESS

Trekking is the popular trekking ventures in Nepal, which is always in the High Himalaya and where we have the chance to get altitude sickness. So, it is highly recommended to learn more about the High Altitude Sickness before you start the trek. Hurry can be deadly in Nepal Himalaya. Walk slow, and give enough time to your body to fit in the high altitude. Drinking more water and stepping slowly with rest is the best protection against altitude sickness.

INSURANCE

It is necessary to have travel insurance before you embark on any trip. The insurance policy should include the cost of medical expenses, any damage or loss of your luggage, and cancellation.

SAFETY

Nepal is one of the safe and more peaceful countries around the world. Even though you must have your Travel Insurance and the should cover the area which is on your itinerary.

RESPONSIBLE TRAVEL

Traveling is the way of getting in touch with the local peoples. It is important to recognize what is acceptable in the society, such as dresses, behaviors, and language. There might be different than your own country. Most of the people can communicate in English in the cities and also some touristy towns but if you have learned a few words Nepali, like greetings "Namaste" that make a huge difference.

HEALTH & SAFETY

Apex Asia Holidays always concern about the health and safety of the clients. Our guide carries a first aid kit with the directed medicine by the doctors. We also recommend you to discuss with your doctor about your visit at least a month ago. In case of severe or emergency, we transfer you to the nearest hospital. Safety is the first important for us as a responsible tour agency, so we do not take unnecessary risk.
Price Starting From
$2500 $2250

10% OFF
Why Book With Us
Great Value Guranteed
Small Group Size
Local Expert Guides
Hassel-Free Booking
Social Responsible
Excellent Service
Frequently Ask Question
What is the time zone of Nepal?

 NPT (UTC+05:45)

Do I need to tip the guide and porters? What is the standard tip?

Tips is expected by your team members and normally the standard is 10% of your total trip cost.

Do you arrange the International and domestic flights?

Yes, we can do as per clients' require. Normally, we arrange all domestic flights and if you required we can arrange also international tickets.

Can I change my itinerary?

 Yes, customizing the itineraries is the feature of Apex  Asia Holidays. And you can also visit the Plan Your Holidays link.

Is it possible to extend trip?

Sure, you can extend your entire trip and also you can do extended trip.

Is it possible to use credit card during the trek/ tour?

Using card is not possible in all trekking town except Namche of Everest region. But in the cities you can use the cards.

Can I charge the batteries of cameras, phones?

Yes, you can charge your devices, but recommended you to bring your plugs, chargers and also do not leave unattended anything while charging in a lobby or somewhere in trekking guesthouse. And if you are in camping trek it's quite hard to charge the phone so advising to bring portable charge.

Is there any possibility to communicate in my hometown?

Yes, you can. In the Everest and Annapurna region you can connect via Phone, Internet both is available in most of town and, in some remote routes you may need to use satellite phone that are carry by you trek guide or also get in the local town.

Do you provide any equipment for the trek?

Apex Asia Holidays provides you a basic equipment like Sleeping Bag, Down Jacket, for tea-house trek. And for the climbing trip we provide the basic equipment. For camping trek check it once including section.

Is the shower facility during the tour/trek?

Yes, you can have shower during the trek. In camping trek you will get shower in shower tent which is basically provide 3-4 times in whole trek it is depending on the duration of the trek. And in a tea-house trek we will provide you attached room where is possible and the rest of town you will payable shower.

What are the accommodations and meals like?

All the meals that you provided are hygienic and fresh. While you are in camping trek you get meals prepared by professional camping cook. And if you are doing tea-house trek you will get the main course as like in the cities. For accommodation in the camping trek you will have a tent with good qualities mattress and sleeping bag. And if you are in tea-house trek you will normal twin sharing room in basic facilities with warm mattress and blanket, and also we provide sleeping bag if you need.

Is the drinking water okay? Or I need to use tablets?

For drinking water you can buy bottle water that purified mineral water in tea-house trek and city tour. And in camping trek the camping cook provides you boiled water. For some case of remote area trekking it would be better to have some purification tablets that you can buy in Kathmandu.

How big is a group size?

We will try to arrange small group of willing people, which immortalized the treks. Normally we encompass 12 -16 people in a group. (This is not to apply for them who want to do Private Trip, no minimum and maximum for them.)

Do you arrange the private trip?

Yes, of course we will arrange private tour.

Should I need to join the group?

Joining in a group is depending on your booking and option that you choose. If you have booked for Private Trip then obviously  you will not join. Otherwise normally the same trip is departing in a same day then the group will join.

Are the staffs insured of your company?

Yes, all of the staffs and crew members are the insured.

What sort of ground transportation you use?

Normally we assign a car up to 2 people and Jeep for up to 5 people and then Micro Bus for up to 14 PAX and Coster and Sutlej Bus depending on group size. There are some trekking routes, which are dirt road for them we assign 4WD Jeeps. It also depends on what services you opt.

Are the treks and tours secured? What about the security?

Provide the security to our clients is principal of us. The government licensed holder guides and other crew members are carefully assign for your trip. Even though, would like to counsel you to take care of your personal equipment, bags. If you doing a tea-house trek your accommodation are in a local guesthouse, where you have to be precaution yourself at all time. And if you are in a camping trek always keep your own bags inside the tent and while in nighttime please keep your bag in the middle of the tent. The camping leader assigns a Sherpa as a guard throughout the nighttime.

Do my guide/porter speak English?

Definitely they speak English. All the guides are professional and due to the professionalism they speak good English. The guide's English is enough to explain about the local culture, activities, and religions.

Do you peak me up at the Airport upon my arrival?

Yes, our airport representative welcomes you at airport and transfer to the hotel in a private tourist vehicle.

What is the fitness required for the treks?

Generally, to trek in Nepal we should have good physical and health condition.  And also able to walk 4- 7hrs in day at high altitude with your little backpack.

When is the best season for treks in Nepal?

From March to mid of June and September to December is the best season for treks.
Why travel with apex asia holidays
Since 2015, we have operated unique itineraries and happy trips that are a once-in-a-lifetime experience. We focused on the fun factor and challenged you aptly to reach that great feeling of personal accomplishment while enjoying the company of like-minded travelers.
Make your journey fruitful by choosing to travel with a local company. We know each holiday is different. With the guidance of our travel experts and first-hand experience, we can customize every element of your holiday. We create travel packages that transcend our clients' expectations. We invite you to discover what you've been missing. These are some of the difference that makes All-Travel unique.
Explore More

Small-Group
Join a small group of like-minded travelers that, like you, are eager to safely and confidently experience all the things that make our world worth exploring.
While traveling in a small group of up to 15 people gives an opportunity of making lifelong friendships. We can appreciate more intimate, personal connections, share experiences, and cherish memories.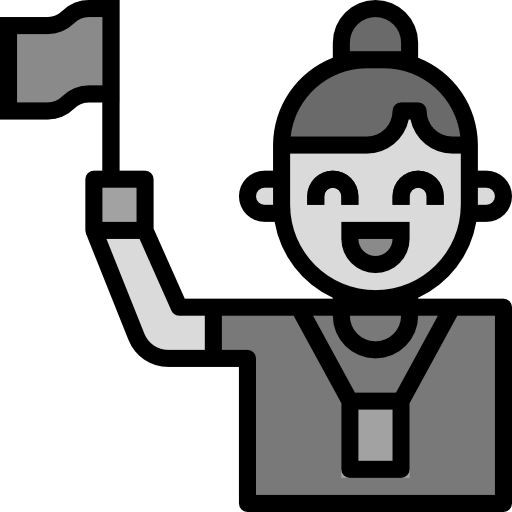 Local Guides
We employ all local guides and porters because of their local knowledge expertise. They can deliver first-hand information to our valuable clients. And trekking in High Himalayas, the local guides and porters can lead you even in the extreme weather and conditions. In addition, we aim to employ the local guides to enhance their skill and empowerment them. We are always concerned about the local community to improve and support them through tourism.

Health and Saftey
Your safety is our top priority. Our trained and experienced team is always concerned with providing fresh and hygienic food, keeping First Aid, 24/7 communication services, and more. Before commencing the trek or tour, we always make sure whether the clients have good enough equipment, clothes or not.

Responsible for Tourism
Responsible tourism is significantly important because it becomes the responsibility of each individual in the tourism industry. Our dependency is on the existing environment we talk about business or livelihood. We focused on our policy to organize outdoor packages that leave less carbon footprint as possible.
Customize Your Trip
Ultimate Everest Three Passes Trek – 19 Days
Quick Inquiry
Ultimate Everest Three Passes Trek – 19 Days
Request A Trip Notes
Ultimate Everest Three Passes Trek – 19 Days