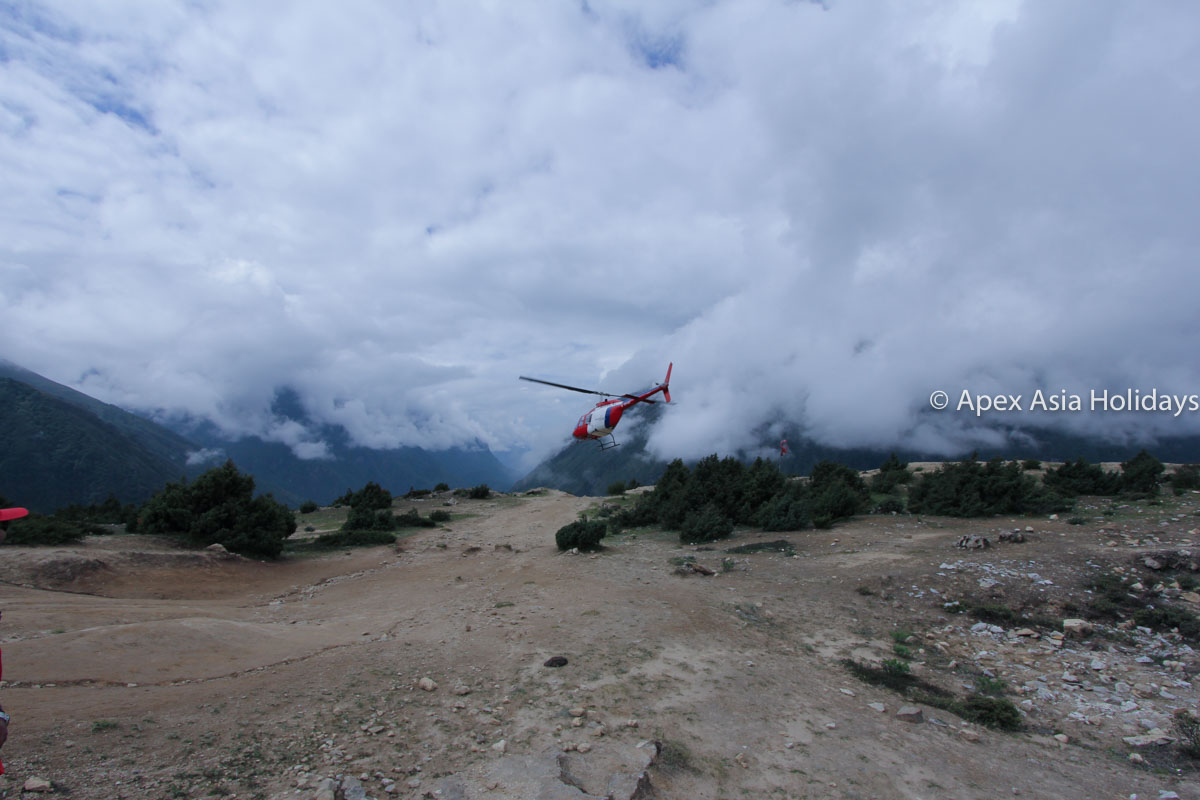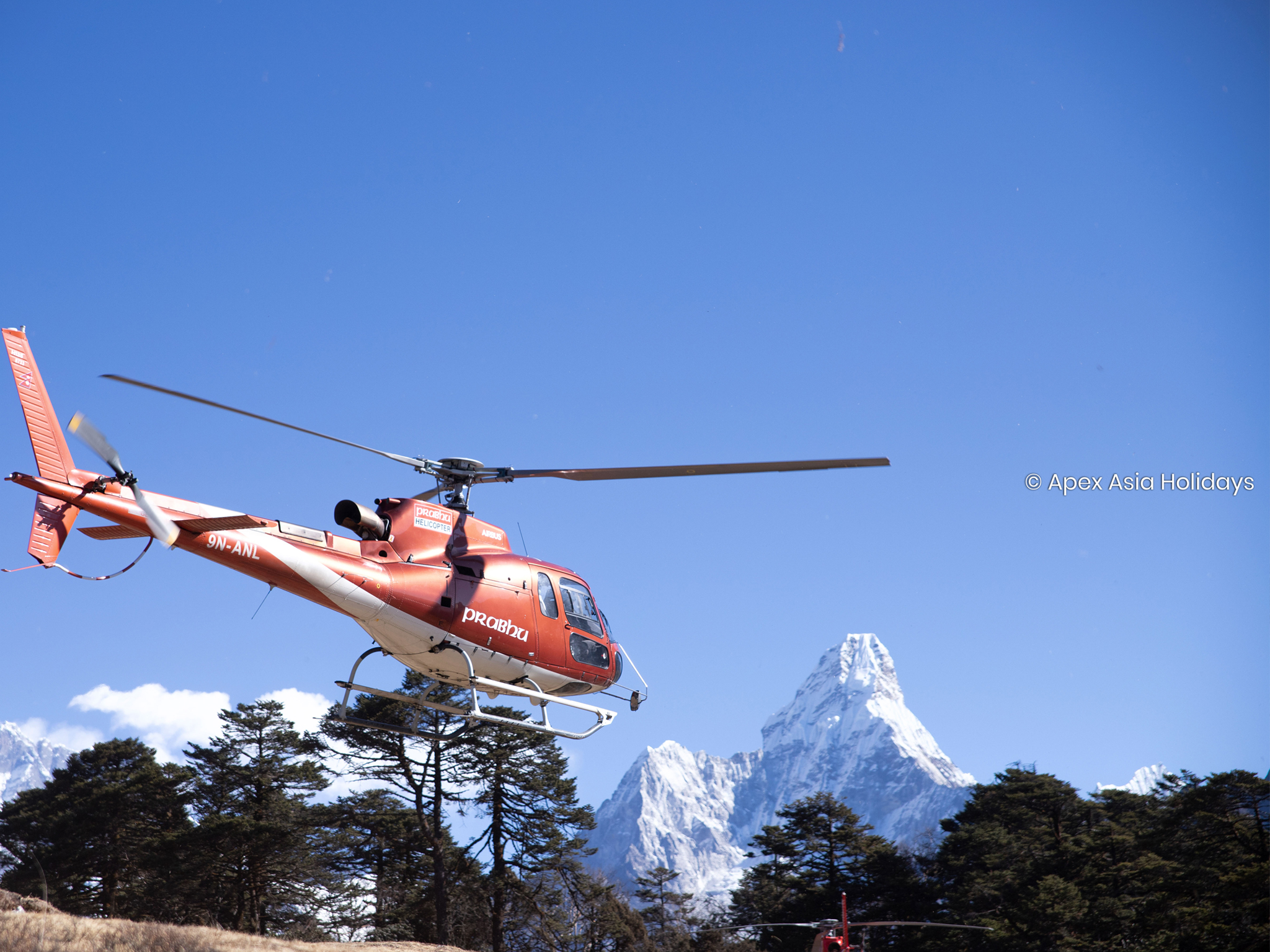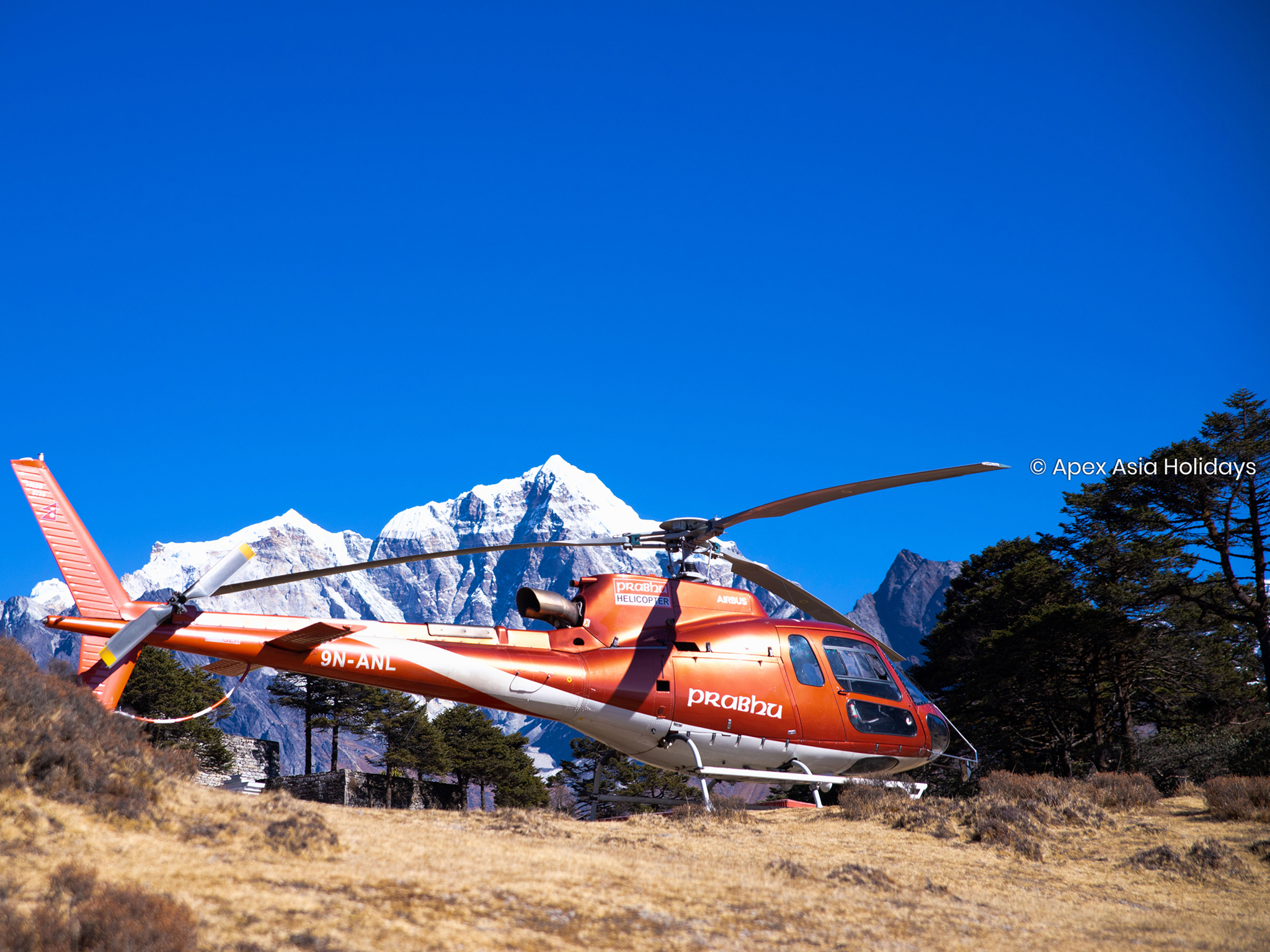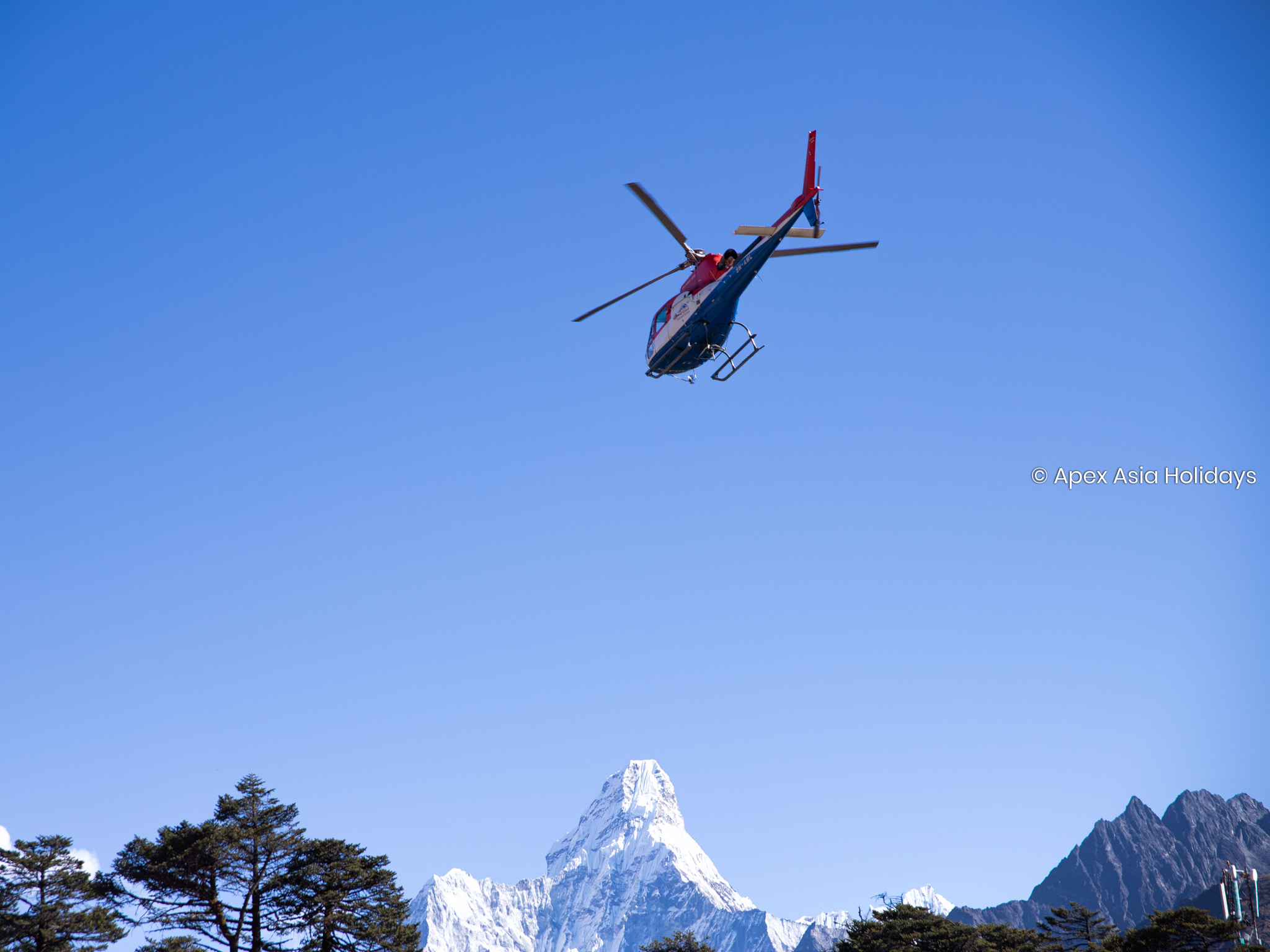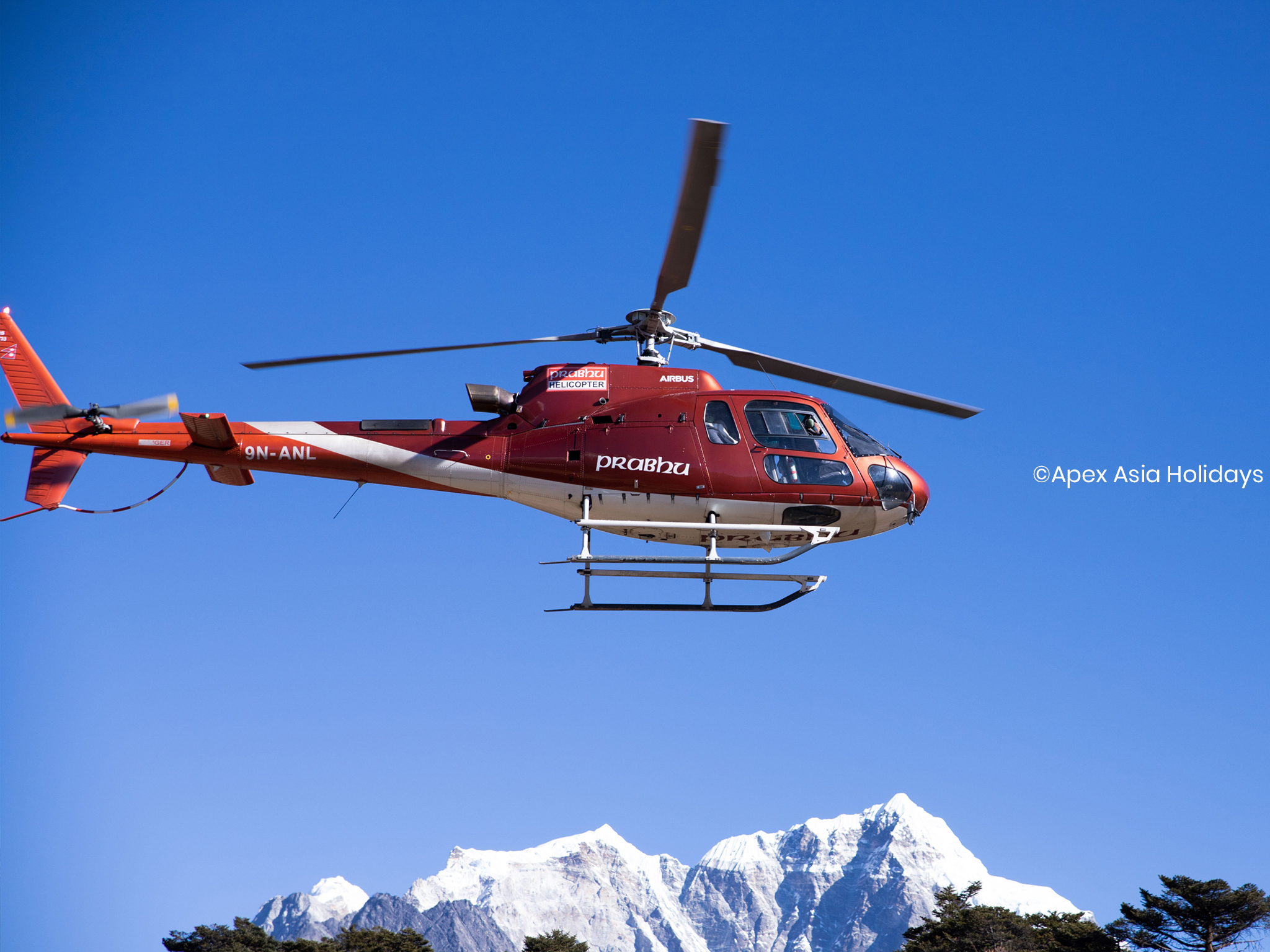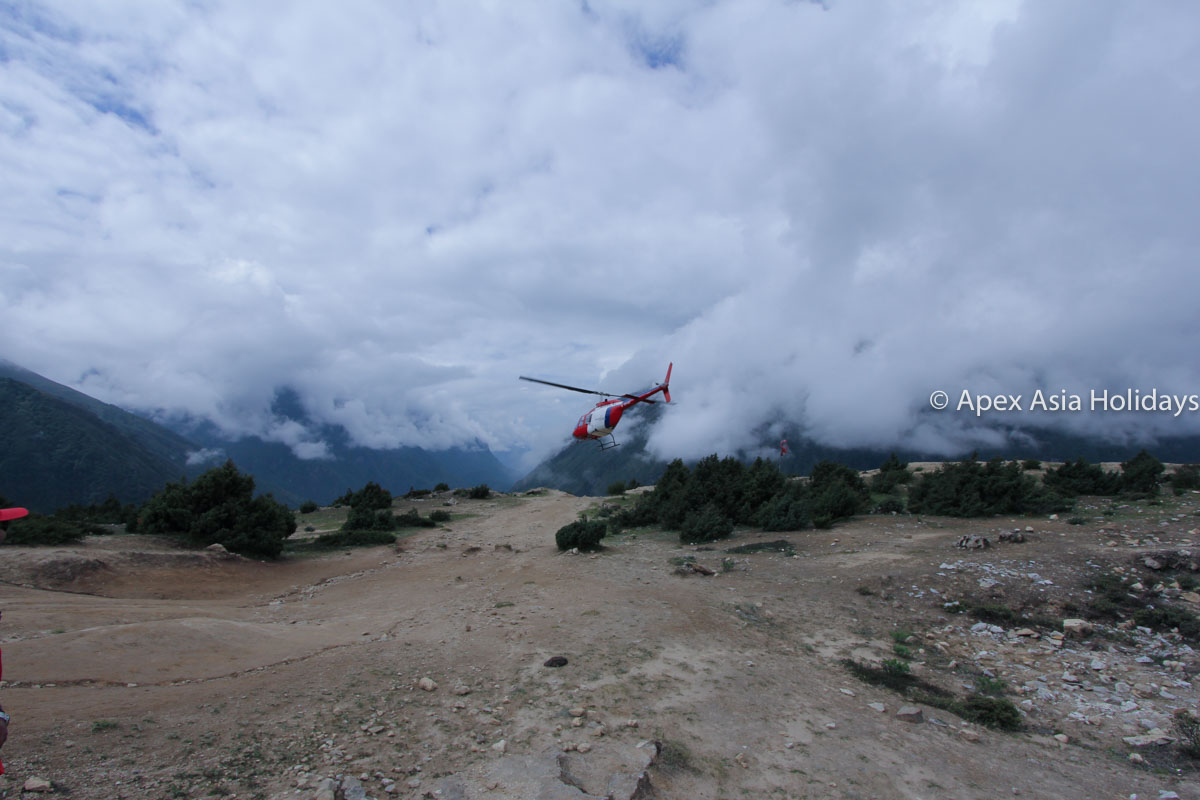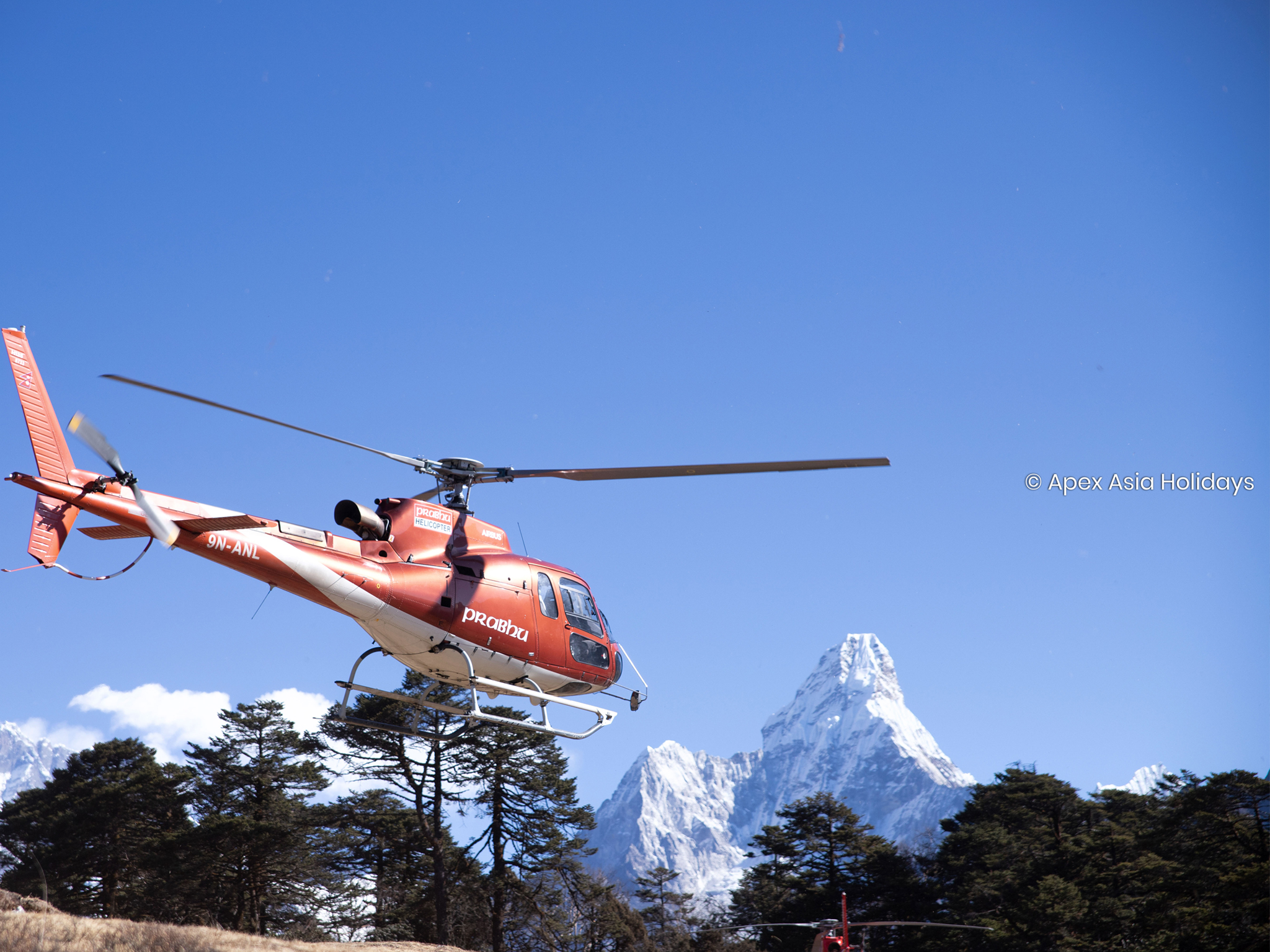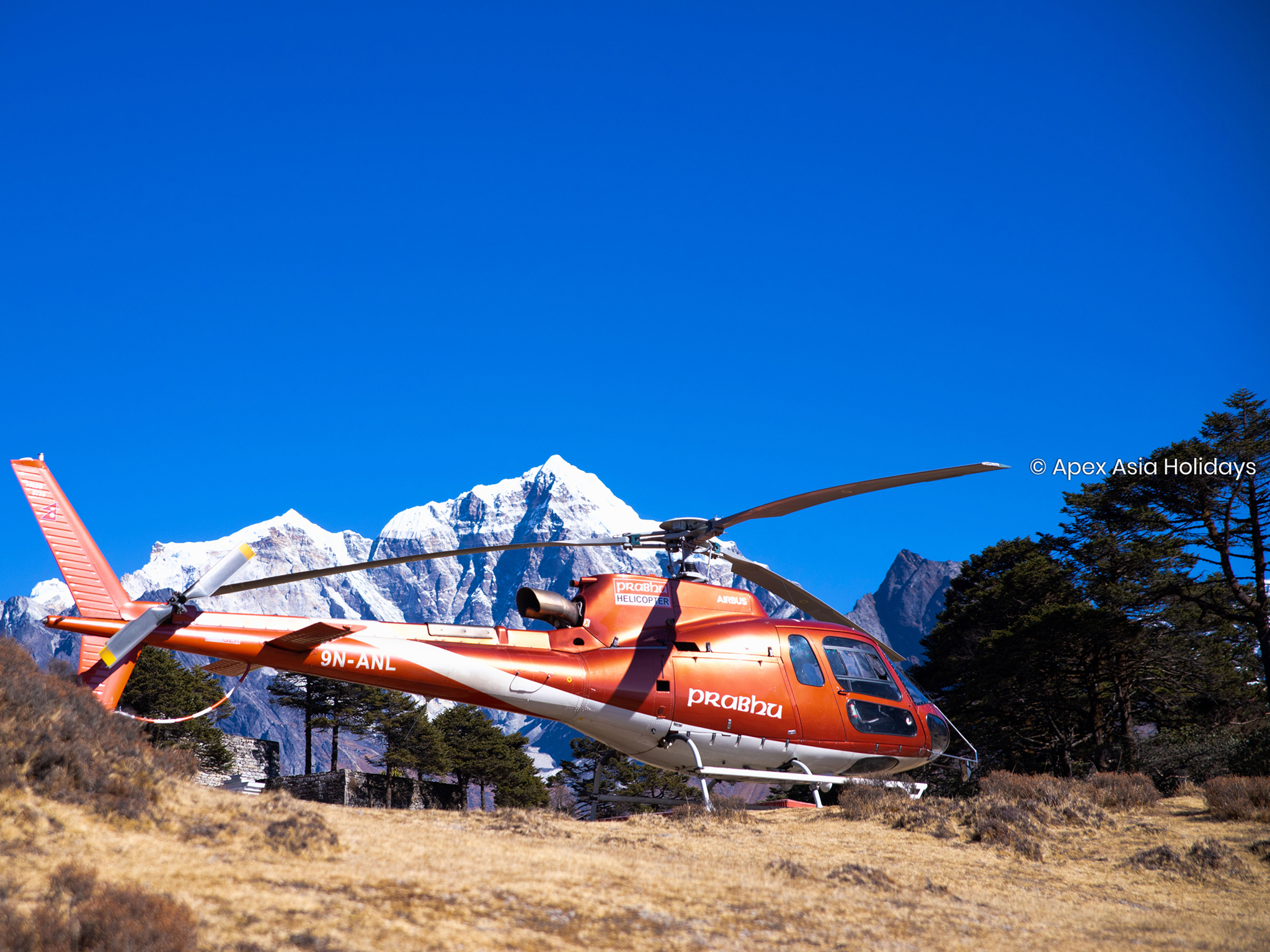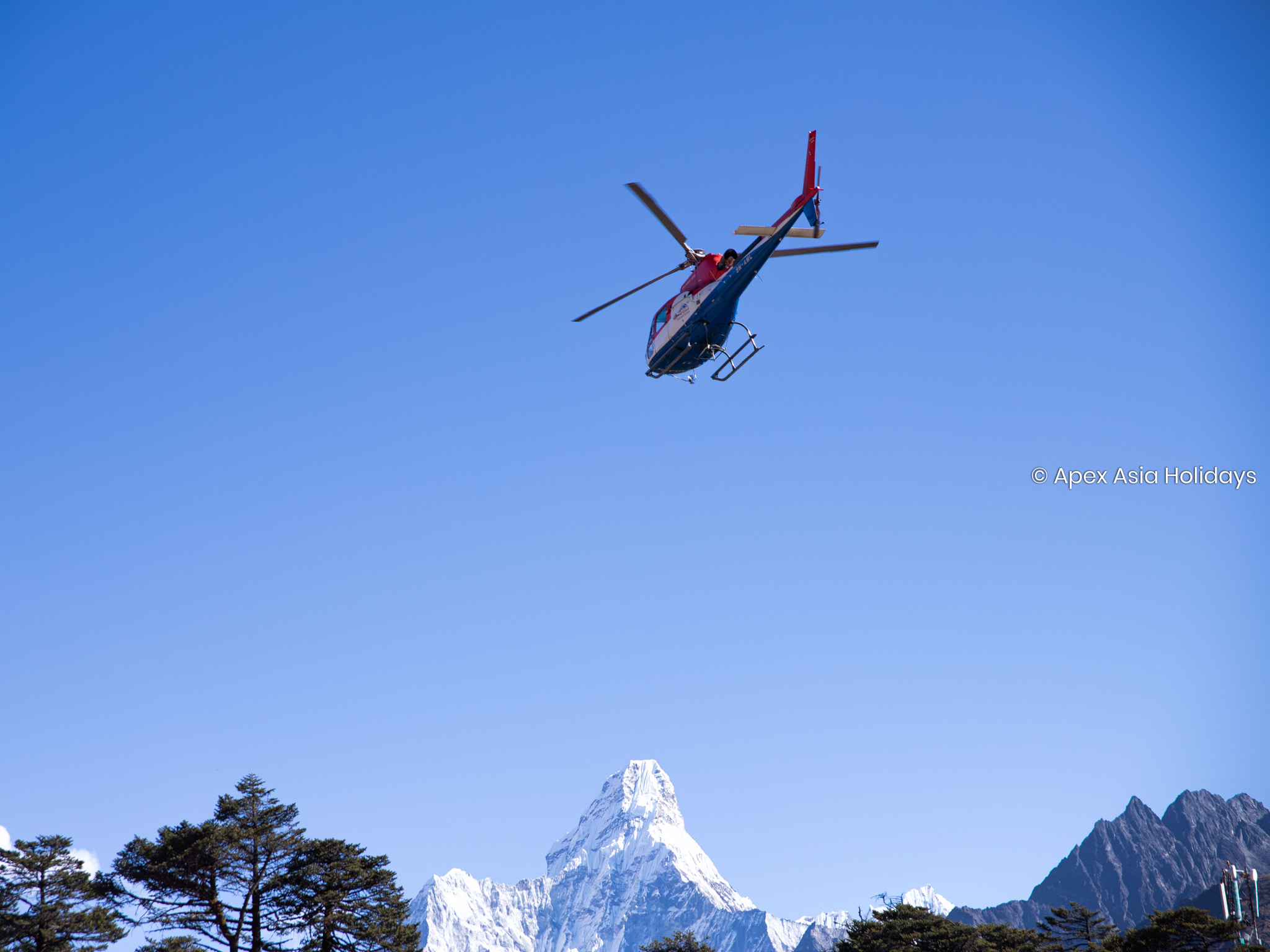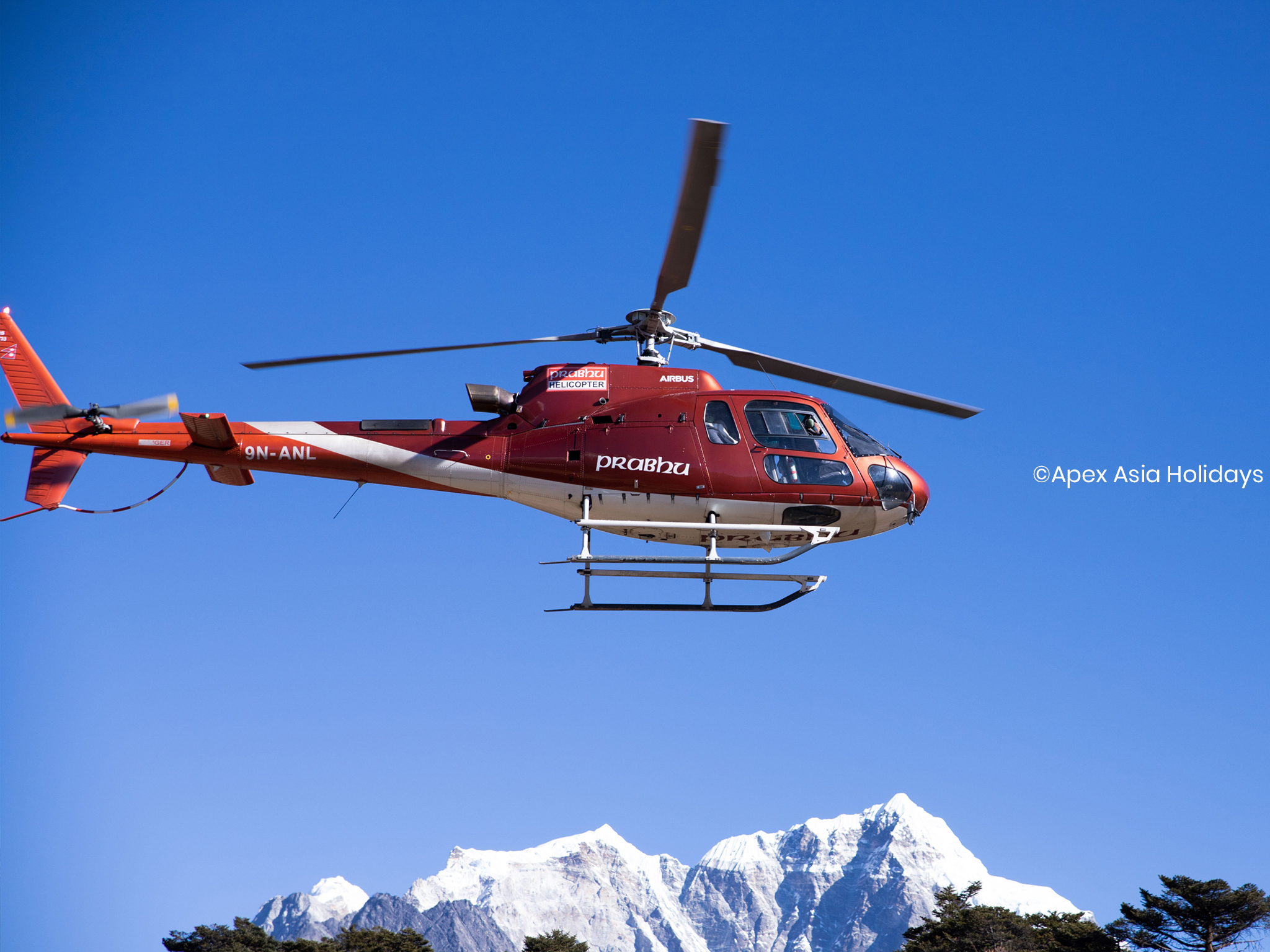 Trip Overview
Riding a helicopter over the Himalayas is surely a thrilling experience. It is very suitable for those who have limited time. Also for them who do not like to strenuous treks at high elevation.
Everest heli tour is a complete tour that flies over mountains and up to the Tibetan border in the north. We also fly close to Mt. Everest. It goes up to 25000ft from sea level. From the point, we can see the awesome aerial view of snowcapped peaks, glaciers, and lakes. During the tour, we can see more than a thousand Himalayan peaks looking down.
Usually, the Everest Heli Tour starts at 6am in the spring season and 7am in the autumn season. We fly out from Kathmandu and land at Lukla Airport for refueling. Once refueled, we fly to Everest View Hotel nearby Syangboche Airport, over Namche Bazaar. On this session, we can see the excellent bird's eye view of Dudhkoshi gorge and Namche Bazaar. Then fly to Kalapathar (5555m) and get a close view of Mt. Everest. Fly over to Everest Base Camp and then head off to Gokyo Lakes. Fly over Gokyo, Chola Pass and then fly back to Lukla, and continue to Kathmandu.
Helicopter Details:
Model: AS350 B3 (Equreuil)
Capacity: 1 Pilot 5 Passengers
Max. Altitude- 7010m (23000ft)
Min. Temperature (-40 Degree)
Max. Temperature ISA +35 Degree limited to 50 Degree
Max. Speed 287km/hrs.
Tour Highlight
Expereice of landing and taking off in Lukla airport
Aerial views of Himalaya including Mt. Everest
Picturesque Sherpa Settlement
Stunning views of Icy lakes and glaciers
Trip Itinerary
Day 1

Morning heli flight to Lukla.

An early morning drive to the airport will be followed by an exciting heli flight ffrom Kathmandu aiport towards the Everest region. The flight will be quite a thrilling one. You first land in Lukla, which is the airport of Everest region, where the helicopter is refueled. After refueling, the flight resumes to Syanboche, flying over Namche Bazaar, the largest town in Khumbu. The view of Namche as well as Dudh Koshi River is outstanding. After a short tea break at Everest View Hotel, we leave for Everest Base Camp, reveling in the imposing views of Mt. Everest (8848m), Thamserku (6608m) Kangtega (6685m), Amadablam (6856m), Lhotse (8516m) and Nuptse (7879m) among many others. We make a stop at Kalapathar (5555m), which is a renowned viewpoint of Everest region. World's highest political meeting was held here on 4th December, 2009. After spending some time here savoring the moment looking at the mountains, we fly back to Kathmandu.

We will have half a day in Kathmandu for a quick city tour, which includes Kathmandu Durbar Square, Swayambhu or Bouddhanath Stupa, Pashupati Temple. The location of the sightseeing can be selected to your liking with consultation with the guide. In the evening, we have a farewell dinner in a typical Nepali restaurant with Nepali music and dance.
Itinerary Info
Standard Itinerary and Private Trip
It is the notice about Standard Itinerary and Private Trip. The provided itinerary is standard, and if you want to customize it, you can do it. OR you can go through our
Plan Your Holidays
page.
Travel Insurance and Covers
We strongly recommend you have travel insurance that covers the adventure activities such as trekking/hiking above 15,000 feet. And must include flights delayed/canceled by bad weather, accidents, evacuations, etc.
Keep in Mind
Sometimes, unusual weather changes, natural disasters, flight delays, and cancellations, government rules, local political situations, health conditions of trekkers may change your itinerary. At that point, our leading guide will decide and try to minimize the impacts and run the trip smoothly, but we are not liable for any additional costs if needed.
Always options for Upgrade
Please you can upgrade your accommodation and transportation service to regular. We can provide you with 5Star hotel accommodation and the best available private car/ jeep services. And also domestic flights including the Helicopter Charter.
HOW ARE WE DIFFERENT?
We operate this trip with aiming:
To improve the lifestyle of local people
To protect the environment
To respect and promote the culture of the local community
To create the Volunteering Opportunities
To donate 5% of each trip cost to the COSD Nepal organization
We hire the local people as trekking staff, which creates the opportunity to learn and share the cultures, get exposure to local traditions. You can enjoy the local product feasts in the teahouses and lodges that directly help their business.
Namaste [Namaste is usually spoken with a slight bow and hands pressed together, palms touching and fingers pointing upwards, thumbs close to the chest] is the respectful greetings in Nepal.
Walk-in clockwise direction around temples, monuments, MANE Stone, MANE-wall is the culture of Hinduism and Buddhism.
Enter temples and with removing shoes and also leather.
Ask permission to take any portrait of locals.
Use right while giving and receiving food, eating, wiping mouth, etc.
Please dress in loose-fitting clothes while entering temples and monasteries.
A small group of travelers led by the local trek leader, we try to minimize the impacts on natural resources and the environment during the trips. We emphasize reducing waste. Encourage travelers to use a refillable water bottle instead of a single-use bottle.
We are also a supporter of the Community Organization for Sustainable Development Nepal (COSD Nepal). And, we collect 5% of the total payment of each trek to contribute to the organization.
Volunteer Opportunity
We have a volunteer trip operating in a local school in Gorkha. Through this trip, you can directly support the children also the teachers' educational status.
Add-on Activities

Equipment List
Here you will get a basic idea of the equipment and items of clothing that you need to carry on the trip. Apex Asia Holidays provide you with a gratis duffel bag in Kathmandu to pack your trekking luggage.
Note:
Non- trekking items can store at the Hotel lockers in Kathmandu.
If you are trekking in Everest Region: Kathmandu- Lukla Flight only allows the 15KG including hand-carry bag.
You must have to carry a down jacket from above 4000 meters to keep warms. You can hire a down jacket and sleeping bag for USD 30 with us.
Upper Body - Head / Ears / Eyes
Hand
Core Body
Lower Body
Feet
Other Essential
Water bottles
Camera
Sunglasses
Personal Documents (Passport, Visa)
Medicine and First Aid
Miscellaneous but Important
Important Info
TRANSPORTATION

In Nepal, there are two kinds of transport, public and private. We mostly recommend you to use the private than the public because the roads two ways that make traffic, and the private vehicle can avoid the traffic by choosing the proper time for less traffic.

MEALS

In Nepal, you will get the extensive food menu. From the international food menu to local foods. Dal Bhat is the main course of Nepal. Your guide will help you to choose the suitable food, on the trek and tour.

ALTITUDE SICKNESS

Trekking is the popular trekking ventures in Nepal, which is always in the High Himalaya and where we have the chance to get altitude sickness. So, it is highly recommended to learn more about the High Altitude Sickness before you start the trek. Hurry can be deadly in Nepal Himalaya. Walk slow, and give enough time to your body to fit in the high altitude. Drinking more water and stepping slowly with rest is the best protection against altitude sickness.

INSURANCE

It is necessary to have travel insurance before you embark on any trip. The insurance policy should include the cost of medical expenses, any damage or loss of your luggage, and cancellation.

SAFETY

Nepal is one of the safe and more peaceful countries around the world. Even though you must have your Travel Insurance and the should cover the area which is on your itinerary.

RESPONSIBLE TRAVEL

Traveling is the way of getting in touch with the local peoples. It is important to recognize what is acceptable in the society, such as dresses, behaviors, and language. There might be different than your own country. Most of the people can communicate in English in the cities and also some touristy towns but if you have learned a few words Nepali, like greetings "Namaste" that make a huge difference.

HEALTH & SAFETY

Apex Asia Holidays always concern about the health and safety of the clients. Our guide carries a first aid kit with the directed medicine by the doctors. We also recommend you to discuss with your doctor about your visit at least a month ago. In case of severe or emergency, we transfer you to the nearest hospital. Safety is the first important for us as a responsible tour agency, so we do not take unnecessary risk.
Price Starting From
$2000
Why Book With Us
Great Value Guranteed
Small Group Size
Local Expert Guides
Hassel-Free Booking
Social Responsible
Excellent Service
Frequently Ask Question
What is the time zone of Nepal?

 NPT (UTC+05:45)

Do I need to tip the guide and porters? What is the standard tip?

Tips is expected by your team members and normally the standard is 10% of your total trip cost.

Do you arrange the International and domestic flights?

Yes, we can do as per clients' require. Normally, we arrange all domestic flights and if you required we can arrange also international tickets.

Can I change my itinerary?

 Yes, customizing the itineraries is the feature of Apex  Asia Holidays. And you can also visit the Plan Your Holidays link.

Is it possible to extend trip?

Sure, you can extend your entire trip and also you can do extended trip.

Is it possible to use credit card during the trek/ tour?

Using card is not possible in all trekking town except Namche of Everest region. But in the cities you can use the cards.

Can I charge the batteries of cameras, phones?

Yes, you can charge your devices, but recommended you to bring your plugs, chargers and also do not leave unattended anything while charging in a lobby or somewhere in trekking guesthouse. And if you are in camping trek it's quite hard to charge the phone so advising to bring portable charge.

Is there any possibility to communicate in my hometown?

Yes, you can. In the Everest and Annapurna region you can connect via Phone, Internet both is available in most of town and, in some remote routes you may need to use satellite phone that are carry by you trek guide or also get in the local town.

Do you provide any equipment for the trek?

Apex Asia Holidays provides you a basic equipment like Sleeping Bag, Down Jacket, for tea-house trek. And for the climbing trip we provide the basic equipment. For camping trek check it once including section.

Is the shower facility during the tour/trek?

Yes, you can have shower during the trek. In camping trek you will get shower in shower tent which is basically provide 3-4 times in whole trek it is depending on the duration of the trek. And in a tea-house trek we will provide you attached room where is possible and the rest of town you will payable shower.

What are the accommodations and meals like?

All the meals that you provided are hygienic and fresh. While you are in camping trek you get meals prepared by professional camping cook. And if you are doing tea-house trek you will get the main course as like in the cities. For accommodation in the camping trek you will have a tent with good qualities mattress and sleeping bag. And if you are in tea-house trek you will normal twin sharing room in basic facilities with warm mattress and blanket, and also we provide sleeping bag if you need.

Is the drinking water okay? Or I need to use tablets?

For drinking water you can buy bottle water that purified mineral water in tea-house trek and city tour. And in camping trek the camping cook provides you boiled water. For some case of remote area trekking it would be better to have some purification tablets that you can buy in Kathmandu.

How big is a group size?

We will try to arrange small group of willing people, which immortalized the treks. Normally we encompass 12 -16 people in a group. (This is not to apply for them who want to do Private Trip, no minimum and maximum for them.)

Do you arrange the private trip?

Yes, of course we will arrange private tour.

Should I need to join the group?

Joining in a group is depending on your booking and option that you choose. If you have booked for Private Trip then obviously  you will not join. Otherwise normally the same trip is departing in a same day then the group will join.

Are the staffs insured of your company?

Yes, all of the staffs and crew members are the insured.

What sort of ground transportation you use?

Normally we assign a car up to 2 people and Jeep for up to 5 people and then Micro Bus for up to 14 PAX and Coster and Sutlej Bus depending on group size. There are some trekking routes, which are dirt road for them we assign 4WD Jeeps. It also depends on what services you opt.

Are the treks and tours secured? What about the security?

Provide the security to our clients is principal of us. The government licensed holder guides and other crew members are carefully assign for your trip. Even though, would like to counsel you to take care of your personal equipment, bags. If you doing a tea-house trek your accommodation are in a local guesthouse, where you have to be precaution yourself at all time. And if you are in a camping trek always keep your own bags inside the tent and while in nighttime please keep your bag in the middle of the tent. The camping leader assigns a Sherpa as a guard throughout the nighttime.

Do my guide/porter speak English?

Definitely they speak English. All the guides are professional and due to the professionalism they speak good English. The guide's English is enough to explain about the local culture, activities, and religions.

Do you peak me up at the Airport upon my arrival?

Yes, our airport representative welcomes you at airport and transfer to the hotel in a private tourist vehicle.

What is the fitness required for the treks?

Generally, to trek in Nepal we should have good physical and health condition.  And also able to walk 4- 7hrs in day at high altitude with your little backpack.

When is the best season for treks in Nepal?

From March to mid of June and September to December is the best season for treks.
Why travel with apex asia holidays
Since 2015, we have operated unique itineraries and happy trips that are a once-in-a-lifetime experience. We focused on the fun factor and challenged you aptly to reach that great feeling of personal accomplishment while enjoying the company of like-minded travelers.
Make your journey fruitful by choosing to travel with a local company. We know each holiday is different. With the guidance of our travel experts and first-hand experience, we can customize every element of your holiday. We create travel packages that transcend our clients' expectations. We invite you to discover what you've been missing. These are some of the difference that makes All-Travel unique.
Explore More

Small-Group
Join a small group of like-minded travelers that, like you, are eager to safely and confidently experience all the things that make our world worth exploring.
While traveling in a small group of up to 15 people gives an opportunity of making lifelong friendships. We can appreciate more intimate, personal connections, share experiences, and cherish memories.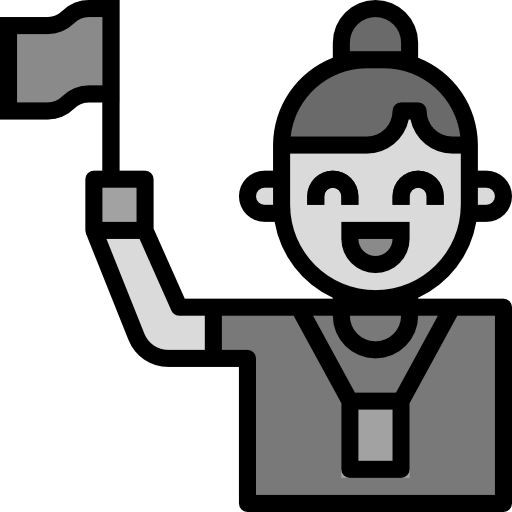 Local Guides
We employ all local guides and porters because of their local knowledge expertise. They can deliver first-hand information to our valuable clients. And trekking in High Himalayas, the local guides and porters can lead you even in the extreme weather and conditions. In addition, we aim to employ the local guides to enhance their skill and empowerment them. We are always concerned about the local community to improve and support them through tourism.

Health and Saftey
Your safety is our top priority. Our trained and experienced team is always concerned with providing fresh and hygienic food, keeping First Aid, 24/7 communication services, and more. Before commencing the trek or tour, we always make sure whether the clients have good enough equipment, clothes or not.

Responsible for Tourism
Responsible tourism is significantly important because it becomes the responsibility of each individual in the tourism industry. Our dependency is on the existing environment we talk about business or livelihood. We focused on our policy to organize outdoor packages that leave less carbon footprint as possible.
Customize Your Trip
Everest Heli Tour
Quick Inquiry
Everest Heli Tour
Request A Trip Notes
Everest Heli Tour