The best 6000 Meter Peaks / Expedition in Nepal
There many of the trekking peaks are under the 6000m category, but the best 6000 meter peaks are; Imja Tse (Island Peak) Peak (6165m/20,226ft), Chulu East Peak (6584m/21,601ft), Lobuche East Peak (6119m/20,062ft), Mera Peak (6476m/21,247ft), etc. Some mountains of 5000m are similar to Kalapathar, Thorong La Pass, Kongmola Pass, etc. So, most people love to climb 6000M peaks as first and initial mountain expeditions. Among the several 6000m mountains, we are operating:
Imja Tse (Island Peak) Peak (6165m/20,226ft)
The Island Peak Climbing is also known as Imja Tse. It is the most famous peak climbing in Nepal. Island Peak is a mountain in Everest Region. The name Island Peak had given by members of the British Mount Everest expedition in 1953. That mountain appeared as an island in a sea of ice from Dingboche. It was renamed in 1983 to Imja Tse, but Island Peak became popular.
Chulu East Peak (6584m/21,601ft)
Chulu East Peak (6584m/21,601ft) lies north of Mt. Annapurna. It has a 900m climbing route. The Peak Chulu East provides breathtaking views of Annapurna (I II, III, and IV), Gangapurna, Glacier Dome, Dhaulagiri, Tilicho Peak, and Mt. Manaslu.
Lobuche East Peak (6119m/20,062ft)
Mt. Lobuche East (6119m (20,062ft) lies nearby the Khumbu Glacier – Lobuche. The submit view of Mt. Lobuche gives the panoramic sight of Mt. Lhotse, Mt. Everest, Mt. Ama Dablam, and many other 6000m peaks in the Khumbu Valley.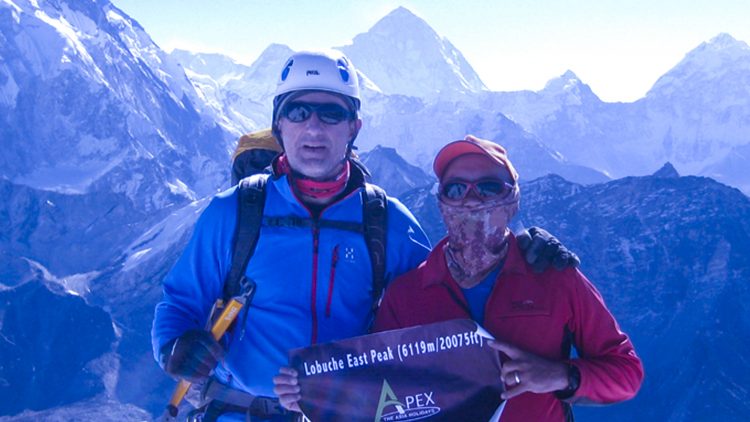 Mera Peak (6476m/21,247ft)
Mera peak is the easy but highest trekking peak of Nepal. It lies in Makalu Barun National Park in Khumbu Himalayan Range. Makalu Barun National Park is an inhabitant of endangered animals as well as the highest mountain peaks: Mt. Everest (8848 m), Lhotse (8516 m), Cho-Oyu (8201 m), and Makalu (8464 m).
Pisang Peak(6091m/19,970ft)
Pisang Peak is a tough trip to the Annapurna region because of its combining features. It is a combination of; peak and pass – Thorong La. Pisang peak has been categorized as a technical because of its climbing route.
Singu Chuli Peak (6501m/21,328ft)
Singu Chuli Peak (6,501m) lies in Annapurna Trekking Region. In some cases, people also recognize the Singu Chuli is the fluted peak. The first climber of Singu Chuli peak was Wilf Noyce and David Cox in 1957 from the North-East Face route. We can see the stunning view of Dhaulagiri (8,167m), Annapurna I (8,091m), Annapurna II (7,937m), and Himchuli (6,441m), Machhapuchhre (6,993m) and more.
Kusum Kangaru Peak (6367m/20,889ft)
One of the techinical peak Kumsum Kangaru is lies in Mahalangur Range – Solukhumbu. It requires technical knowledge and experience in climbing. The summit (6370m) offers panoramic views of Khumbu Tse, Karyolung, Khang Karpo, Khangtega, etc.
Chulu West Peak (6584m/21,601ft)
Chulu West lies at Manang. It can be spotted from a famous western pass Thorong La (5416m). It is on the way to Thorong La Pass Trek. Some climbers return to Kathmandu after summiting the peak, and some of them cross the Thorong La and fly to Pokhara from Jomsom.
Saribung Peak (6346 m)
Saribung Peak is a bit longer trek – about 22 days with superb panoramic trek and expedition in western Nepal. This trip involves camping nights as well. We will follow off the beaten trail to the Lomanthang and Saribung peaks (6346 m) nearby Damodar Himal and Damodar Kunda.